Our Big Move
Part 1: Moving with a Large Family
Overwhelmed.  Stressed.  Exhausted.  That was me for the majority of this year.  It all started in late Spring when my husband accepted a job change that would move us half way across the country.  We had been praying about my husband's job for a few months.  There were many closed doors but we knew that God was going to answer this prayer in His timing – not ours.  In His way, not our way.  We all knew there was a possibility of a move.  We just didn't know how far and how big.
Even though we had prepared our hearts for this, it was so much more overwhelming than I realized it would be.  I was trying to envision what the future would be with us packing, selling, purchasing a new house. I even had to look up how you were meant to be selling your home properly because it stressed me out so much. My mind would jump.  What would people thing? Is my house nice? What house?  Where?  How would we find where we needed to be?  Moving is hard.  Moving with a large family at times feels impossible. With so many children and some with special needs it sent my mama bear instincts into overdrive.  I wanted to do what was best for them – to make this a smooth transition. It wasn't just selling my house that stressed me out, but looking at the house that I would move in to next freaked me out as well. I speak many hours looking up things online, feeling bewildered. You get so use to something that change can be hard. There were many things that I knew I had to look up. For example, I made sure to look at the energy provider that we would be using in our future home. I wanted to make sure that we got the cheapest provider and luckily a friend of mine recommended that I take a look at something like simplyswitch.com to make sure that I at least could save some money some where. That was only one small bit that made moving less stressful.
So, I entered survival mode.  I took time off of social media.  I took time off from blogging.  I focused on narrowing our search for housing, schooling for our oldest son, and homeschooling opportunities.  My older kids and I made a list of things we wanted and things we needed in a house.  We brainstormed and came up with quite a bit of "wants".
We poured over so many houses it boggles my mind.  I had my kids in on this with me.  They helped me look.  They even vetoed a few and put some others on our "good" list.  I realized that moving with kids especially moving with a large family requires to be patient AND to be diligent in the search. We wanted to make sure we were moving into a friendly neighbourhood because of having the seven children. We weren't sure how we were going to find this out until we came across an online address lookup website which made this search easier than ever.
As the months went on we narrowed down the houses.  All of this was happening while we were putting some of our stuff in a storage unit, staging our current home, selling other stuff online, homeschooling our kids, and making it through a lot of extra curricular events (my daughter's first play, my first Sweet Adelines contest, the end of our co-op year…)  So we kept pressing forward, but I felt like I was slowly sinking under the waves.  It was hard to keep up with all that needed to be kept up with while maintaining a home in pristine condition (to show at any second) and parenting 7 kids.
It was also hard for me to imagine us living anywhere but here.  We had lived in that area for about 6 years but in that general area for nearly 20!  North Carolina is where my kids call home and emotionally, although I felt like I would be ready for a move, I didn't know if my kids were.
We pressed forward and put the house on the market, and we had showing, after showing, after frustrating showing.  We found out some interesting things during this move.  Apparently, our house has the wrong Feng Shui and is facing the "wrong" direction.  Interestingly enough, that is why we didn't get any offers or nibbles for months.  At one point, I thought of changing our write up  to state that this house has bad Feng Shui so if that is important to you, this isn't the house for you.  I didn't though.  I just took some deep breaths and prayed.
Meanwhile, we all tried to stay patient.
Even though I knew my husband and I had been praying for God's will to be done, patience is something God is still working on in me.  It is difficult to admit, but it doesn't come easily for me.  So we waited and we kept praying.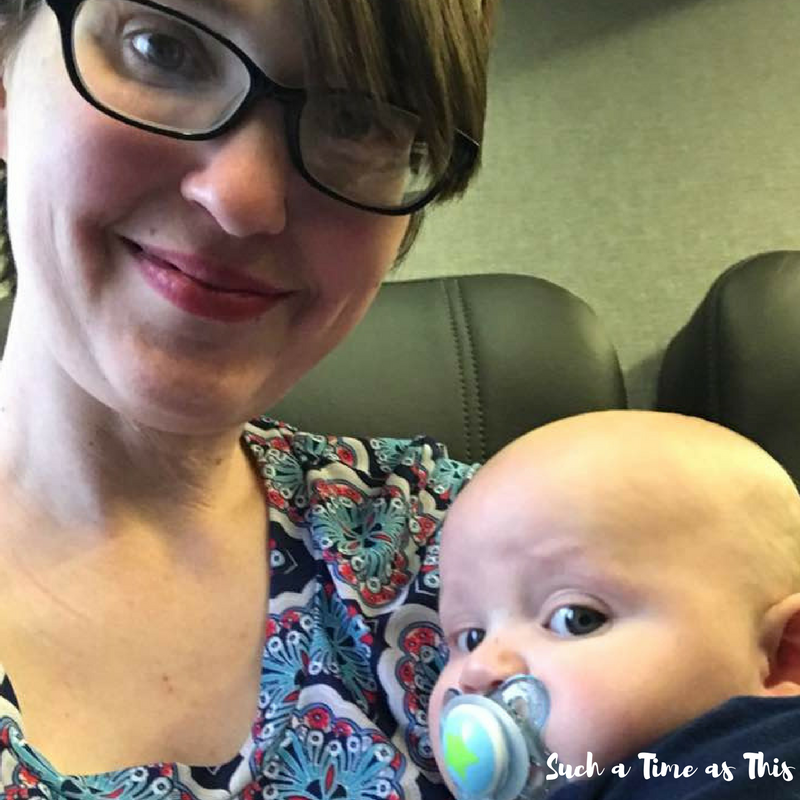 The day finally came to fly out to Chicago one late Spring day.  We only brought our baby with us.  We were ready to pick a house.  We gave ourselves one day.  ONE DAY.  Yep, 24 hours to pick a house.  We had narrowed down our list a million times over and finally settled on about a dozen homes that we would look at and put an offer on.  We decided that we would have to move in 30 days so part of our hope was that whatever house we chose, the owners would be open to a quick close.
Part 2 of Our Big Move: Moving with a Large Family to be continued tomorrow…