Birth Story Baby Number 7 –
A Christmas Birth
A psalm of David. The LORD is my light and my salvation–so why should I be afraid? The LORD is my fortress, protecting me from danger, so why should I tremble? Psalm 27:1
It was the week before Christmas, when I woke up around 1 am to constant contractions.  I had been experiencing them prior to going to bed but they were mild and sporadic.  By 1 am they started coming about every 4 minutes steadily.  I walked around the house trying not to disturb anybody.  I tried rocking on our glider, sitting on the birthing ball – even hopping in the shower.  Nothing would make them go away.  I eventually laid back down and at about 7am I fell asleep for an hour.  That morning they continued but were more sporadic so we called our in-laws who were planning on coming up for the birth.  They started heading our way.
By Tuesday, my due date, I wasn't experiencing the steady contractions any more, but I did have a scheduled appointment with my midwife.  Hubby and I headed in to see how things were progressing and to check in before our scheduled induction for the next day.  (We chose to be induced before the 41 week mark this time because of some complications with our last baby who was born at 41+1.  That – along with my own health issues – made it a clear choice).
At the appointment, the midwife thought I was a cm or less dilated and not very effaced but because of the position of my cervix – she was having trouble reaching.  She said it was impossible to do a sweep.  She was concerned, however, about little guy's heartrate because it sounded like it was low and experiencing de-cels.  She hooked me up to a NST for monitoring of about an hour.  After an hour, although his heart rate was a little low it was still in the normal range and she decided to send me home.  I was due at the hospital at 7am and I was relieved to know we would be meeting the little guy soon.)
That night my in-laws, the kids, hubby and I decided to go out to dinner and throughout dinner I began to experience sporadic, although strong, contractions.  It didn't seem to amount to anything and we finished dinner and then headed back home.
Early the next morning we made our way to the hospital at the scheduled time.  I was anxiously waiting to find out how they were going to do the induction.  As I've written about before, I've experienced so many different types of inductions including cervidil with pitocin, prostaglandin gel and a foley bulb catheter followed up by pitocin.  I didn't know what their plan was but I had recently read that cervidil isn't recommended to women who have had more than 5 vaginal births because of risk of over-stimulating the uterus.  I was beginning to feel uneasy about how things would go.
After arriving at the hospital, the nurse went through my health history and then tried to get an IV started.  That was not an easy task and it took her finding two other nurses and four sticks of my hands and arms before one was placed successfully.  When my midwife came in she did a very quick ultrasound to confirm a head down presentation.  When she went to check my dilation she realized that I was already 3cm and 30% effaced … all that happened since I had seen her in less than 24 hours!
She said we would start the pitocin and see how things go from there.  The pitocin was started around 10:15 and nothing much happened for the first two hours.  They checked me again around 12:15 and found I was about 4cm and 50% effaced.  At that point, she asked if it was ok to break my water in the hopes of getting this progressing a little quicker.  Thankfully the water was clear and everything was going well with baby.
It was slow moving from there … I began having contraction but nothing major and every 30-45 minutes the nurse would pop her head in the room and increase my pitocin level.  By 5 p.m. the contractions had become slightly more intense but still not too bad.  I felt the baby moving a little further down.  I was about 6 cm.  That felt slightly deflating but I knew I hadn't gotten to a point of feeling a lot of pain yet.  Everything was very manageable at this point.
I continued to sit on my birthing ball and rock during the contractions.  I tried to sit in the bed during a contraction and the pain instantly magnified.  The nurse allowed me to drink water but not eat during this whole process … so I kept asking for a refill on my water bottle and chugging ice-cold water to keep my mind off any hunger.  At about 5:50 I told hubby I needed to use the bathroom.  This was an ordeal because of being hooked to so many IVs and monitors.  I was worried that once a contraction hit I would be stuck in the bathroom – unable to move or cope.  I also got hit with chills during this time and my nurse commented that it might be transition.
I made my way into the bathroom and as soon as I stood up to leave the room a contraction hit and I needed to hold onto my husband so that I wouldn't fall down.  The nurse walked into the room during this and asked me if I needed to be checked.  I told her I did because I was having trouble knowing what to do during the contractions.  She checked me and said I'm 8cm and almost completely effaced.
It was then that I wondered how I could go on like this.  It wasn't just the pain but the fear of what lied ahead.   It was also the panic that set in that I wouldn't know when it was time to push.  These fears were very irrational because I've done this so many times before and I always know when it is time.  I think it is easy to second guess ourselves – especially when we feel so vulnerable.  I sat on the birthing ball during another contraction and then tried to stand during another.  They were coming every 2.5-4 minutes.  The nurse and the midwife started making suggestions of a squatting bar or sitting backward on the bed – holding on to the top of the bed.  Filled with anxiety over getting trapped in one of these positions, I declined and instead insisted on sitting on the birthing ball.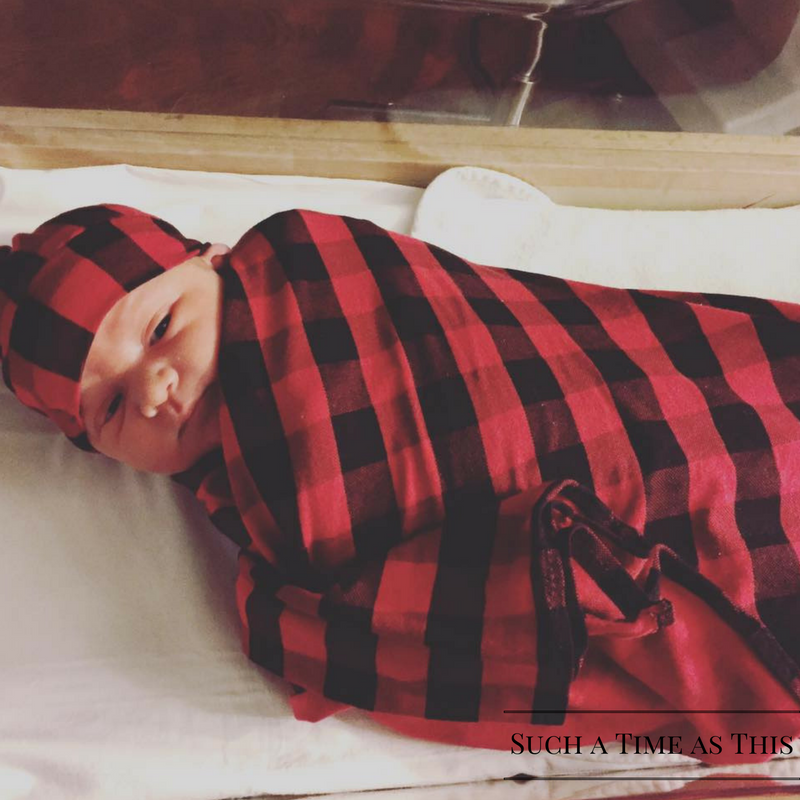 After a few more contractions the midwife got concerned that I was close to the pushing phase so I quickly jumped on the bed to be checked and was close to 10 cm but not quite there yet.  One more good contraction and baby would come … and that is exactly what happened.  I tried pushing gently at first and then she told me give one good push to move him down.  In about one – maybe two pushes, as I prayed for help from the Lord, baby's head and body was out.  At around 6:30pm baby was born.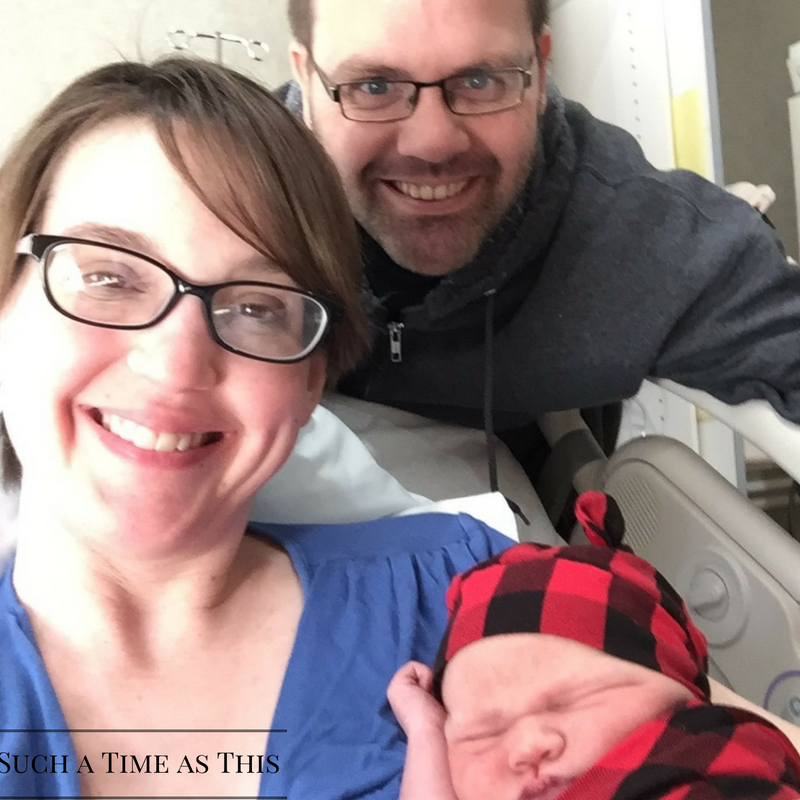 Baby Philip was born with light blonde hair and dark eyes at 8lbs 6oz and 21″ long.  The nurse placed him on my chest where he lay still for a few seconds and then let out a little cry. He was healthy and pink and didn't have any of the complications some of my others had experienced.  Both my hemoglobin and platelets were great the day that I had him.  I was able to avoid any intervention as far as blood products or transfusions and the only extra measure the midwife gave was an extra bag of pitocin run after delivery to make sure my bleeding stayed under control.
The Lord was surely with us throughout not just this delivery but throughout the entire pregnancy which was trying and hard both physically and emotionally.  God didn't promise things would be easy – but if you are following him he does offer you peace, joy, and comfort.
This verse seems so fitting:
Psalm 18:2 The LORD is my rock and my fortress and my deliverer, my God, my rock, in whom I take refuge, my shield, and the horn of my salvation, my stronghold.

 The Lord is our deliverer. The Lord is gracious.  The Lord is with us. Always.

Thanks for reading my birth story!  Feel free to share yours below! 🙂
Interested in this birth story?  Feel free to check out our other pregnancy and birth posts.
Induction is not Always a Bad Word
37 weeks update {pregnancy number 7}
30 Weeks Pregnancy Update + Baby Shower
26 weeks pregnant {Baby number 7}
21 Weeks Pregnant Update {Baby 7}
Pregnancy update; 17 weeks {Baby Number 7}
Our 14 Week Update {pregnancy}
Stop Fearing the Unknown and Go For a Natural Birth