I sat among friends at a Bible Study when I first remember the words.  "God won't give you more than you can handle."  It made me pause.  Tears welling in my eyes.  
Why does it feel that He has?  
I've heard this statement many times over the years – the last time was only a few months ago.  Those words seem to flow from the lips of believers.  It seems the easy thing to say when someone is hurting.  I have learned some valuable lessons in my life, one of which is to not believe those words.  I won't say it and I won't believe it any longer.  
God does give us more than we can handle.  God will continue to, as well.  How do I know?  Just look to the Bible.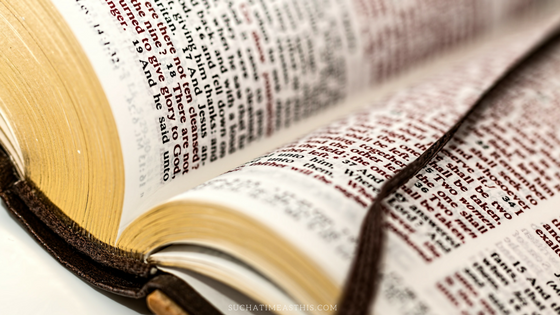 God Gave Them More Than They Could Handle
Joseph, through no fault of his own, was made a slave and then thrown in jail.  He suffered miserably for years.  It was God who gave him the power to interpret dreams which was the reason he not only got out of prison but was made second to the King of Egypt.  It was all part of a greater plan to save God's chosen people from dying of starvation during the famine that struck the land. (Genesis 41)
Elijah was given more than he could handle when Queen Jezebel was trying to have him killed.  He ran from her, in a great depression, not knowing where to turn.  Though at one time he lived by the power of God, in this instance he fled to a mountain to be alone in his sadness.  It was there that the Lord met him and instructed him on what to do. (1 Kings 19)
David was a shepherd boy who faced lions and bears.  Why?  Was that something a little boy should have to handle?  A little boy who would one day become king?  He was given these challenges so that one day he would have the faith and the courage to face a giant named Goliath.  Through these hardships, his faith grew exponentially. (1 Samuel 17:34)
Paul was given more than he could handle as he sat in a prison cell – a slave for Christ.  He says in 2 Corinthians 12:
"If I wanted to boast, I would be no fool in doing so, because I would be telling the truth. But I won't do it, because I don't want anyone to give me credit beyond what they can see in my life or hear in my message, even though I have received such wonderful revelations from God. So to keep me from becoming proud, I was given a thorn in my flesh, a messenger from Satan to torment me and keep me from becoming proud. Three different times I begged the Lord to take it away. Each time he said, "My grace is all you need. My power works best in weakness." So now I am glad to boast about my weaknesses, so that the power of Christ can work through me. That's why I take pleasure in my weaknesses, and in the insults, hardships, persecutions, and troubles that I suffer for Christ. For when I am weak, then I am strong." 2 Cor. 12:6-9
James 1: 2-4 says, "Consider it all joy, my brethren, when you encounter various trials, knowing that the testing of your faith produces endurance. And let endurance have its perfect result, so that you may be perfect and complete, lacking in nothing."
Reasons Why God Gives Us More Than We Can Handle
We are given more than we can handle to refine us.
We are given more than we can handle to grow us spiritually.
We are given more than we can handle to rid us of sin.
We are given more than we can handle to teach us patience and perseverance.
We are given more than we can handle to humble us.
We are given more than we can handle to teach us the power of prayer.
We are given more than we can handle so that we can see God's power.
We are given more than we can handle so that we can experience God's mercy.
The Truth About What We Need to Handle
It was never about what we can handle.  Those of us who are believers should know this, but instead, we fall into the ways of this world.  We want to carry on our shoulders those things which only God was meant to carry.  We aren't called to the be smartest, strongest, coolest, richest people in the world – we aren't supposed to outwit, outlast, outplay others.  We are called to be humble. To love God.  We are called to follow Jesus.  To depend on Him for our every need.
Some may confuse the verse in 1 Corinthians with this idea.  "The temptations in your life are no different from what others experience. And God is faithful. He will not allow the temptation to be more than you can stand. When you are tempted, he will show you a way out so that you can endure." 1 Corinthians 10:13 This speaks of sin and temptation, not on life circumstances and trials.  

God wants us to get to the end of ourselves – and then to leap with eyes of faith -leap to Him.  Then we will see – and only then we can know that it was always God handling everything anyway.  So stop trying to carry everything and give it to God.  We can not only hope in the Lord but we can trust that, "He who began the good work within you, will continue his work until it is finally finished on the day when Christ Jesus returns." Philipians 1:6
Look to God's Word
When you feel that you need to step up and "handle" whatever it is in your life, remember these verses and keep them with you as a reminder that God doesn't want us to handle anything – He wants us to give it all to Him.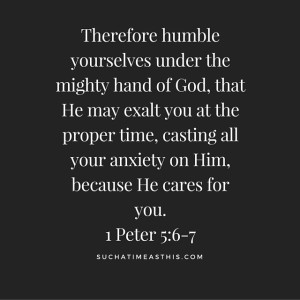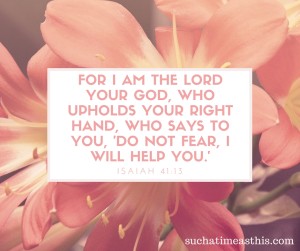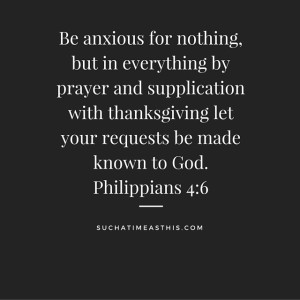 This is a lesson I am still learning every day.  I need constant reminders to "give it to God".  My control freak nature causes me to have trouble remembering this. I don't have the strength to handle all of the problems I've faced. Through them, I have been broken, I have been shaped, I have learned, I have seen God move and work in extraordinary ways.  
More Than I Could Handle
I lost my mom to cancer when I was 23 – just months after giving birth to my firstborn. 
I witnessed my oldest son drift away as autism took hold.
I've struggled with schooling and behavior for him.
I've hurt to see the loss of family relationships – a brokenness that runs deep.
And the health problems that perplex.
So much anxiety that riddles.
Job loss and financial burdens.
Fighting bitterness and loss.
But through it all He is faithful.  Through it all he carries.  Through it all God is God.  It is good to look over our trials and triumphs and see just how God has truly carried us through. 
My first guest post features one such trial: one that God has carried my friend and her family through.
What are you struggling with right now?  What can I pray for?  If you feel led, please leave a comment or send me an email.
I appreciate you sharing. Please share this on Pinterest.