Warning: Don't Forget to Make a Meal Plan Now — It's Sunday Night!
Plus Printable Meal Planner Menu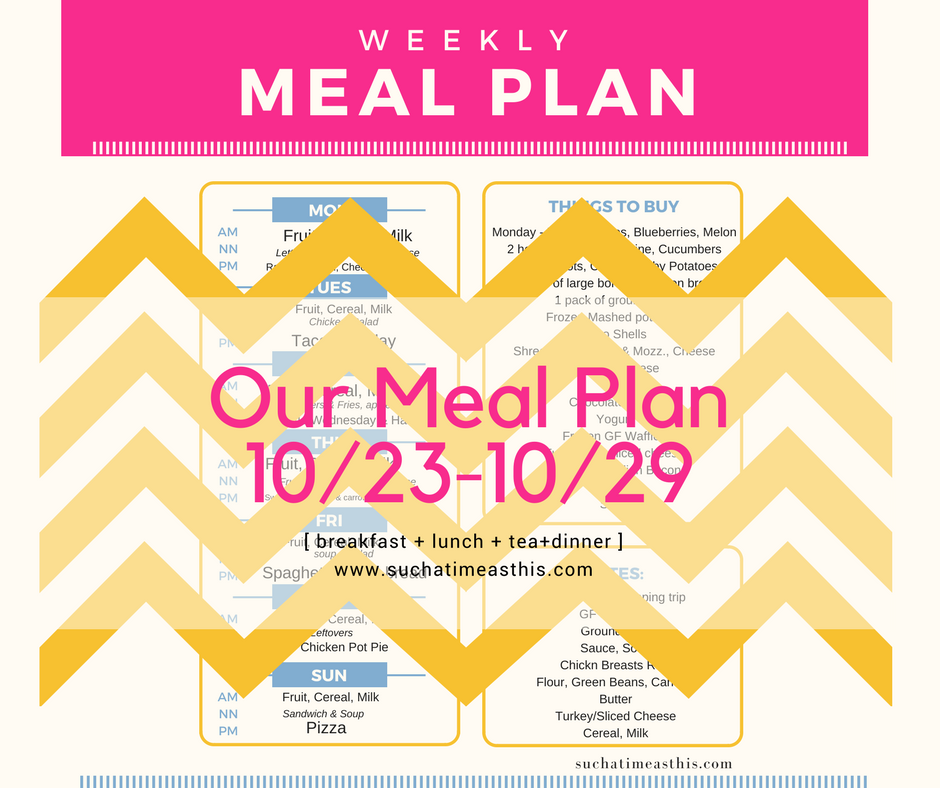 Contains affiliate links, which means if you choose to purchase through the links on my site, I will receive a small commission.  Please read my disclosure policy.
It was a warm Fall evening in the late 1990s, when my parents had invited my new boyfriend and his mom over to my house for dinner.  To my astonishment as my mom set the beautiful bowls of china down on the table, I put my hand on the side and realized it was ice cold and the liquid was a reddish-purple  hue.  "It's cold borscht soup!" She said and I slunk down in my chair.
My mom was a master cook, but that was one of her flops.  I'm not sure if it is an acquired taste or not, but I sat there wondering why we couldn't serve "normal food" to our new guests.  My mom loved to try new recipes from far and wide.  Most of what she made was exquisite.  She was gourmet through and through.  And I'm not.  I think I got my dad's cooking genes.
Last week was my very first week of sharing with the world what I'm cooking– you all remember that I really don't like cooking, remember?  So, sharing this wasn't easy.  You can see how simplistic my meals are.  You probably wouldn't have known that I grew up in a family of fancy cooks.
My grandmother and my mother could bake and cook all kinds of things from scratch and I remember all too often the dinners that looked like they were out of pages of gourmet cookbook. We had roast lamb at holidays and lots of roasts, chicken cordon bleu, and hardly a casserole or or grilled hotdogs & hamburgers.

Well, I don't know what happened to me but I've never been a great cook.  I realize now that that doesn't matter.  What matters is that my kids are fed and they are fed a somewhat balanced nutritious diet – that is what I care about.
So, I'm owning this quick – thought free – healthy – simple cooking thing.
Last week, one of the nights I was making my frozen meat loaf and decided to throw together steamed carrots and sauteed frozen green beans.  It was a simple and basic meal but it was so easy to make because I had used my meal planner to plan it out!  There was no running to the store last minute, or trying to figure out what I had on hand to make.  So, my oldest son, who has struggled for years and years with poor eating habits, pickiness, and sensory processing disorder (he even went through feeding therapy a few years back) asked me for seconds and it just made my heart sing.  Here I was praising God for His ultimate help and guidance last week as day by day I provided for my family good, wholesome and nutritious food on their plates for three meals a day.

So, without making you wait any longer, here is our meal list and meal planner.  Plus, don't forget to download your own blank copy of our weekly meal planner printable below.
Meal Planner for 10/23-10/29
Monday
Breakfast – Fruit, Cereal, Milk
Lunch – Lettuce Wrap (Turkey & Cheese)
Dinner – Ranch Chicken, Cheese, and Baby Potatoes (One of Our Favorite MyFreezEasy Meals)
Tuesday
Breakfast – Fruit, Cereal, Milk
Lunch – Chicken & Salad
Dinner – Tacos (Ground Beef, Lettuce, Tomatoes, Shredded Cheese, Cucumbers, Salsa/Sauce) … you can add onions, olives, peppers, beans!
Wednesday
Breakfast – Fruit, Cereal, Milk
Lunch – Hamburgers, Fries, Apple Sauce
Dinner – Waffle Wednesday – Waffles, Bacon, Canadian Bacon, Fruit, Yogurt
Thursday
Breakfast – Fruit, Cereal, Milk
Lunch – Fruit, Raw Veggies, Rice Cakes with Cream Cheese, Muffins, Yogurt, Tea-time
Dinner – Swedish Meatballs (from my freezer!) steamed carrots & baby potatoes (through these into a steamer basket on top of a large pot of boiling water).
Friday
Breakfast – Fruit, Cereal, Milk
Lunch – Soup & Salad (We love organic canned soup – Like Amy's Lentil, 14.5 Ounce (Pack of 12)
).
Dinner – Spaghetti, Garlic Bread, GF Noodles (maybe a spaghetti squash) and a salad Dessert Night (It's Family Game Night)
Saturday
Breakfast – Fruit, Cereal, Milk
Lunch – Leftovers
Dinner – Chicken Pot Pie (I will have to post this recipe soon. I make it with fresh chicken, chicken broth, homemade pie crust or biscuits and toss in whatever vegetables I have on hand – usually green beans, carrots, peas, onions, or mixed vegetables).
Sunday
Breakfast – Fruit, Cereal, Milk
Lunch – Sandwiches & Soup
Dinner – We like to take it easy and order Pizza on Sunday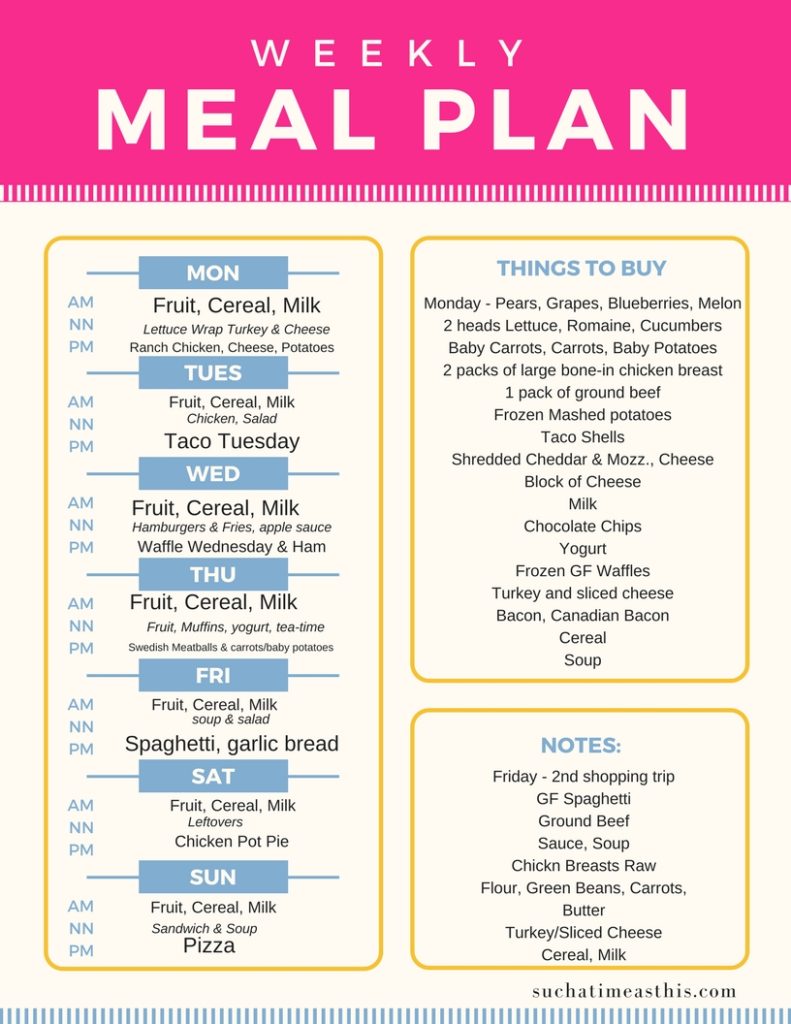 Don't forget to download your own Meal Planner:  Meal Planner
---
For more inspiration, check out my meal planner from last week: