Plan to Love
Dear friends, let us continue to love one another, for love comes from God. 1 John 4:7
Time.  We only have so much of it.   This gift that seems like an infinity when we are young.  As we grow older, I think we realize that it won't last forever.  This gift can run out before we want it to.  Time is a gift and at times feels like the enemy.
This week my extended family lost a friend to cancer.  Two days later my blogging family lost another to a house fire.  These losses, these losses came as a shock to us.  How quickly time can fade from us.  James writes, "How do you know what your life will be like tomorrow? Your life is like the morning fog—it's here a little while, then it's gone." James 4:14
I spent the greater part of last week trying to contemplate this.  Trying to grasp it.  Trying to understand how frail we all are.  How this life is a gift.
I shared with you last week about seeking your purpose.  I mentioned how we each have a role to play on this journey of life.
But, I can't help but wondering, what if it is so much more simple than that?  What if it isn't some complex problem to solve or this ambiguous idea we need to be in search of.  Maybe it isn't so confusing after all.
Tuesday morning it all seemed to come into focus for me.
I had been searching for something and I think that I've found it.  It's something that has been here all along.  It just seems my eyes had to be open to see it.
It was then that it hit me: If time is the gift we've all been given, what if love is the gift, the offering, that we are able to give back?
Because love never runs out.
It never disappears.
It conquers all.
My head was spinning with ideas and understanding.  As the Bible verses that we had memorized came flooding back to me.
We need to love.
We need to love our husbands.
We need to love our children.
We need to love our neighbors.
We need to love our church family.
We need to love our friends.
But we also need to love the others, all the others.
The people in other neighborhoods in our communities.
The people who live downtown.
The people who live in other parts of our state.
The people who live on the other side of our country.
The people who live in the other side of the world.
We don't do these things to earn our way into Heaven.  We don't do this to earn favor or to earn grace.  No, we do these things because of what our Lord and Savior has already done for us.  He was sent here as perfect love.
Jesus commanded in John, "My command is this: Love each other as I have loved you." John 15:12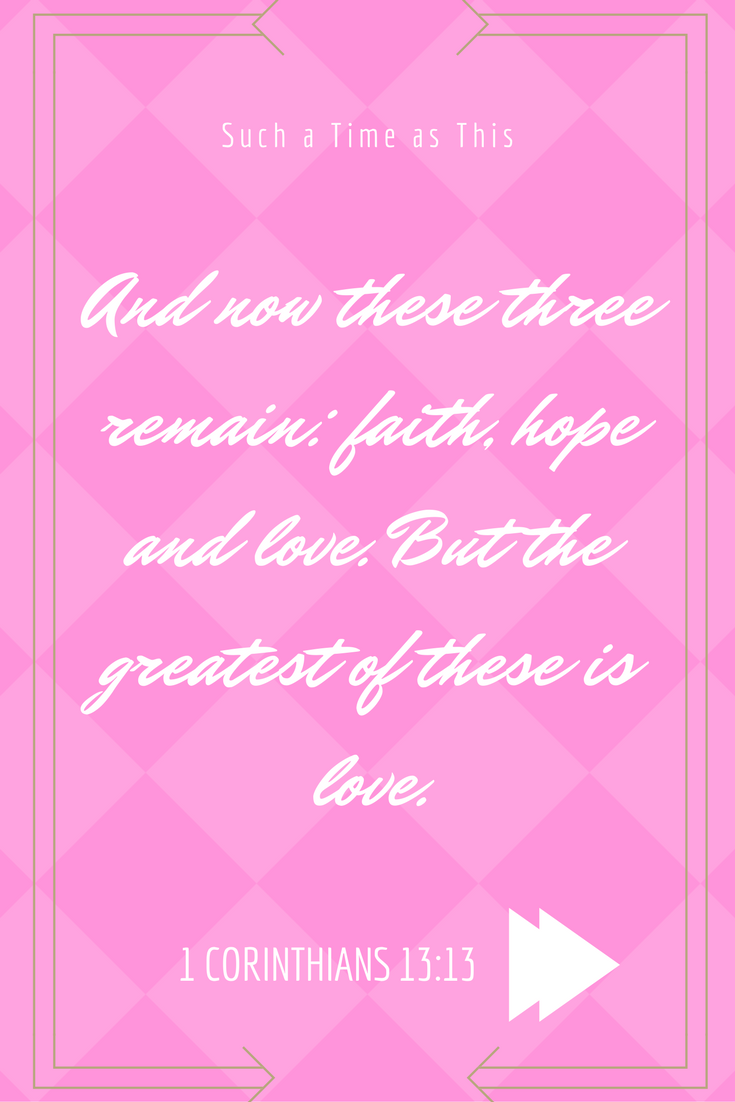 And then in the book of Matthew, when the Pharisees asked Jesus, "Teacher, which is the greatest commandment in the Law?"
Jesus replied: " 'Love the Lord your God with all your heart and with all your soul and with all your mind.' This is the first and greatest commandment.  And the second is like it: 'Love your neighbor as yourself.' All the Law and the Prophets hang on these two commandments." Matthew 22:36-40
So we do these things not because we are good.  We don't do these things because we want to prove we are Christians.  We don't do these things to prove a point.
We do these things because our Lord has commanded us to.  We do these things because he loved us.
We do these things because we are filled to the brim with His love.
We do these things because this is how we worship God.
Paul writes, "And so, dear brothers and sisters, I plead with you to give your bodies to God because of all he has done for you. Let them be a living and holy sacrifice–the kind he will find acceptable. This is truly the way to worship him." Romans 12:1
We also do these things because we have faith.  And we know that true faith means stepping out and letting God guide us.  
James 2:15-17 says, "Suppose a brother or a sister is without clothes and daily food. If one of you says to them, "Go in peace; keep warm and well fed," but does nothing about their physical needs, what good is it? In the same way, faith by itself, if it is not accompanied by action, is dead."  
We have been given a beautiful gift.  It is the gift of time.
What are you planning on doing with it?
Today begins a new journey for our family.  We will be choosing to use our time more wisely as we plan to deliberately love others.  Over the next few days and weeks I hope to share with you what we are doing and what we plan to do.  If you have suggestions please send me a message on facebook (see below).
And now these three remain: faith, hope and love. But the greatest of these is love. 1 Corinthians 13:13