The 8 Best Games That Will Make You Think
Games can be awesome tools that help you and your kids gain knowledge.  They can make you smarter.  They can increase critical thinking skills.  They can even help with homeschooling.  Games are tons of fun.  Here are 8 games that will make you think!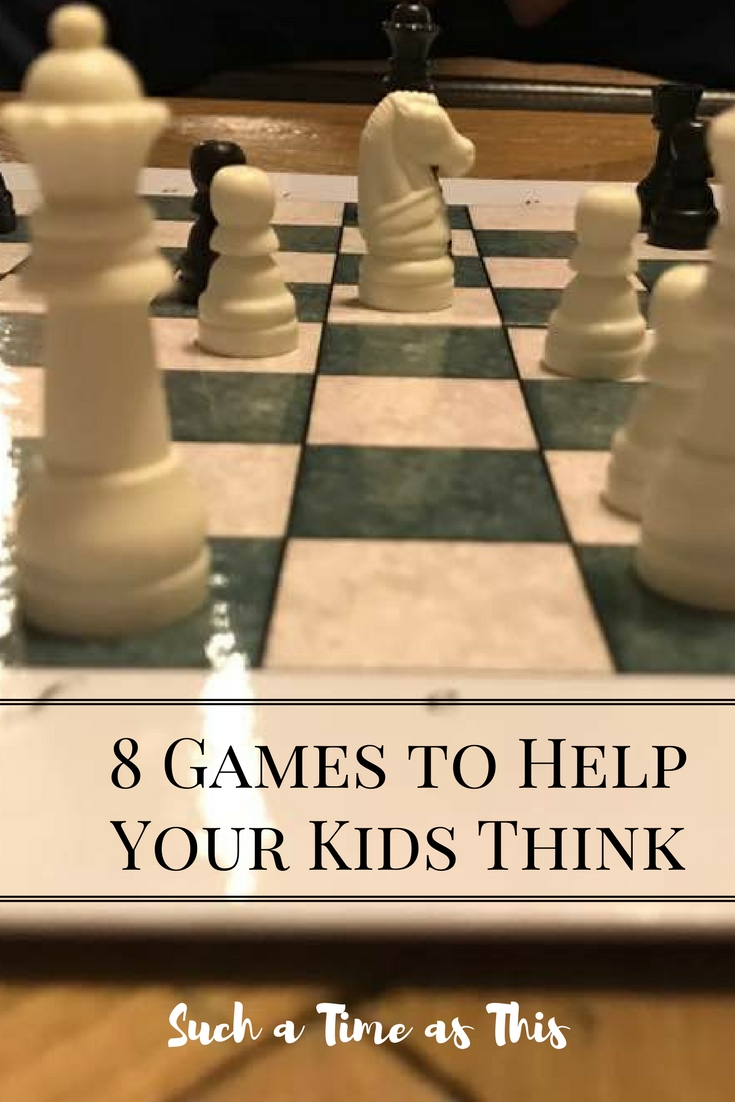 (Contains affiliate links, please see my disclosure policy.)

1. Timeline
– 2-8 players, 15 minutes.  The ultimate history game!  This simple game consists of a set of cards each with an invention on one side and the year printed on the opposite side.  The goal is to put the cards in order to create a correct timeline.
On your turn, you place the card where you think it belongs. When you flip it over, you will find out if the date is in the right order with the rest of the cards on the table.  If you get one wrong you need to discard that card, get another one, and wait until your next turn to try again.  Whoever lays down all their cards first is the winner.   This game teaches critical thinking, deduction, and history.

2. 10 Days In Europe Game
– Ages 8+, 2-4 players. This is one of my favorite games.
Back several years ago when my daughter was only 6 and my 2nd son was 8 we started playing this game.  Within a few months of playing this once or twice a week they had every country in Europe memorized.  It was amazing.  I couldn't believe it.
At first, the game was hard to play (for all of us – not just the kids).   The rules are simple, the strategy is not.
The board is a colorful map of Europe.  You are given 10 cards – each with either a name of a European country, ships, or specifically colored airplane.
Each card represents a day of a trip – a 10 day trip.  The mission?  To use all your cards (or new ones you pick up from the pile) to create a trip through Europe.  You can start in any country but once it is set on a day the only way to change a card to a different day is by using your entire turn.
That is where the strategy comes in.  You must decide from the beginning where you are going to place your 10 cards (you only get one at a time – so you have to do the best you can with what you have been given).  The ships are labeled by which sea or ocean they travel in, the airplanes are colored so they can only be used to travel to and from countries that are the same color.
This is one of my favorite games that will make you think.  I love that this is a geography and strategy game.
3. Ticket To Ride
 – Ages 8+, 2-5 players, 30-60 minutes. This is another geography based game.  This one is a map of the USA (although they do make a Europe version, Switzerland, India, and others).  The board is a map of the USA – you are given 3 cards that are mini maps.

These maps show you where you need to go to get the most points.  If you complete the routes on your maps you get the points, if you don't complete them, you get them deducted at the end of the game.  You are also given trains and train cards (colored trains).
It is your job to match however many trains you need to go between two cities (according to the map) with the amount of train cards you have.  Don't have enough? On your next turn you can try to grab them from the pile.

I find this game teaches specific cities in the USA, where they are located, and reading maps and directions.  We allow our kids to play at different levels.  For instance, our oldest has autism and other special needs.  It is very difficult for him to decipher what is on his route cards.
We have allowed him to play just by collecting the cards he needs to run trains from one city to the next.  He loves playing this and it still teaches strategy.  This game is simpler than it's European
 counterpart which I like when playing with younger kids.  Although we enjoy that version, as well.
4. Wits & Wagers Family – Ages 6+, 3+ players. We got this game for Christmas and it quickly became one of our all time favorites to play as a family.  The game takes less than a half hour to play and it is for ages 6 and up.  Our 6 year old, 9 year old, 12 year old and 14 year old all love it.  It is a game based around statistics and wagering. Ultimately it is a game of logical thinking.
The game is played in two parts.  First a question is read.  Your goal is to guess the correct answer.  Once everyone writes their answers on their own card.  The cards are revealed and then everyone gets two guesses as to who has the correct answer.  You can put your "big" meeple on one and your small "meeple" on another – or both on the same one.  Whoever comes closest without going over the answer is the winner of that question. However, whoever guesses the correct answer also gets points.  
5. Hasbro Scrabble Crossword Game – Ages 8+, 2-4 players. This is a classic and we LOVE it for teaching spelling.  Our 12 year old son has dyslexia and this has helped him expand his understanding of words, spelling, and has even helped his vocabulary!

6. Axis and Allies 1941 Board Game
 – Ages 12+, 2-5 players, 2 hours game play. We have been playing this game for the past 6 months.  This game board is the map of the world circa 1941.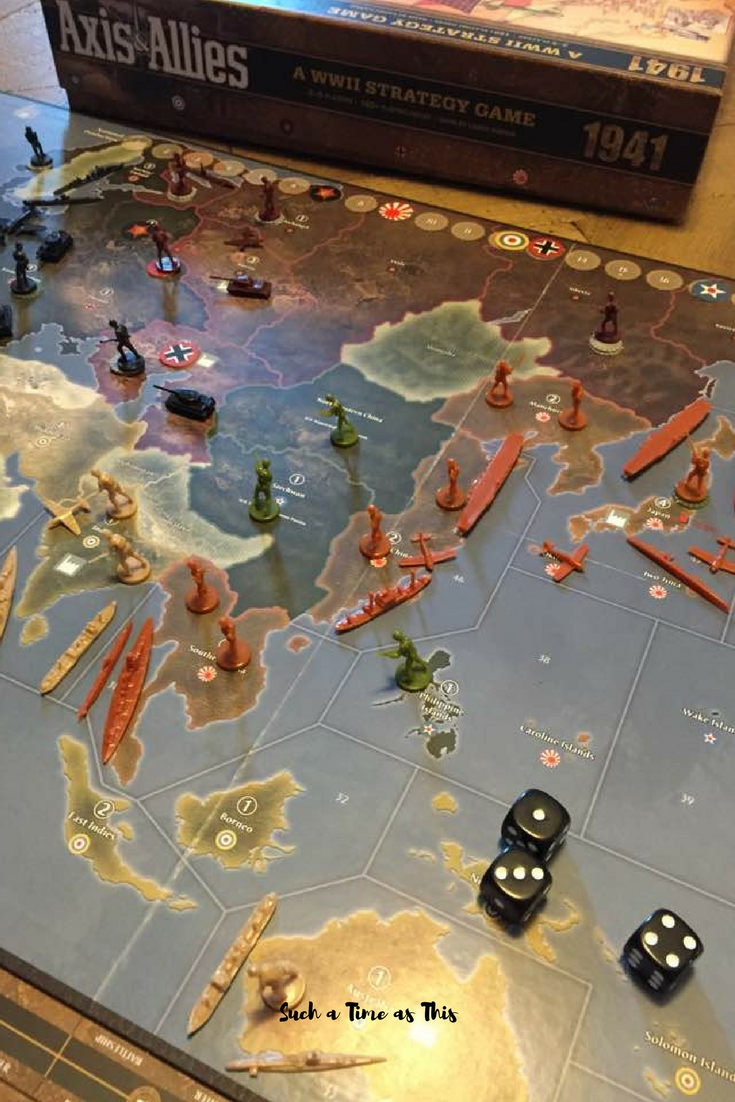 There can be 2-5 players and each player is one country -or more- (but if you have more than one country then your 2-3 countries have to be part of the same team).  This is a game about WWII and you are either on the side of the Axis or the Allies.  It is a game of war, geography, and strategy.  My 12 year old son loves it.  It has helped him develop his critical thinking skills along with his knowledge of history (specifically World War II).


7. Monopoly Board Game The Classic Edition – Ages 8+, 45-60 minutes game play, 2-8 players. I've been playing Monopoly since I was a kid!  This is a favorite game of my oldest son.  I love that he has learned to play it because it teaches how to count money, adding, and strategic thinking. 
8. No Stress Chess
 – Ages 7+, 2 players. The ultimate strategy game.  Chess can be used to teach logic, strategy, and patience (a lot of patience).  This particular game of Chess (called No Stress Chess) is a game for beginners on one side and for experienced players on the flip side of the board.  You can choose to use the cards (which explain how the pieces are moved) or play without for the more classic version of the game.  This version is for ages 7+ (but even my 6 year old plays).

---
So, I've shared with you the games that will make you think.  What do you think?  What are your favorite games you can use to teach your kids (and you)?