10 Things You Need to Know about Costco
+ FREE Printable Costco Shopping List
My husband and I have been members of Costco for over 15 years.  We love that place and it helps us save money by buying in bulk.  They even offer a percentage back on your Costco credit card that you can cash back in for future purchases.
Here is what you need to know before you go to Costco:
You need a membership.
To shop at Costco you will need to purchase a membership card.  There are different levels of membership – but all of them work the same way in that they allow you shop at Costco.  Each card type offers additional benefits and rewards.  The top membership is called the Executive membership and costs $110/annually and the base membership is the Gold Star and is $55/annually.
Make sure you have the right form of payment.
Buying from this store is a little different from other stores.  They only accept Visa brand credit cards (they have their own that you can apply for when you become a member which will give you between 1%-4% back on purchases), cash, check or debit.
They sell organic.  
Many items from boxed pasta to fruits and veggies are actually organic. When in doubt, check the label.  (They even sell Annie's Organic Mac & Cheese, Annie's Organic Chocolate Cereal, Soup from Amy's Kitchen).
They sell name-brand items. 
They sell one or two  of many items in name brands that you will recognize from the grocery store.
They limit your choices.
This can be good or bad – depending on your personality.  Sometimes it is nice to have choices narrowed down for you.  Other times, you might not find exactly what you need.
Everything is in bulk.
This is great for large families.  Not great for small families or single people.  However, as long as you have storage space in your home, you can make do.  We lived in a small town home when we had our first two children, and we still shopped at Costco!  They also carry a lot of food staples so you can cook from scratch.  For instance, they carry oatmeal, flour, sugar, salt, baking soda, herbs, frozen fruit, butter…and more.
They don't just sell food.
Part of what I love about Costco are the clothes they sell.  Yes, they sell baby clothes (from Carter's and sometimes Gymboree).  They sell kids clothes, womens and mens clothes and shoes.  They even have underwear, socks, tanks, and pajamas.
In addition to clothing, they have books (think best-sellers AND kid books), lightbulbs, batteries, appliances, furniture, seasonal items, office supplies, fresh flowers, playgrounds and even jewelry!
They have an excellent return policy.
If something is bad or doesn't work, return it.  Just remember to save your receipt.  However, because you need a membership card to shop, some things might be accepted back without your receipt.  For more details click here: Costco Customer Service.
They don't accept coupons.
…except their own.  Look for their coupon book that comes out monthly.  Costco has great deals even without the coupons, but with it it makes a good deal even sweeter.
Their food court is awesome.
Each Costco sells pizza, hotdogs, soda, and a few other items for cheap.  Take advantage of a hotdog and drink for under $2 after you make the rounds through the store!  If you have a large family, you might opt for their pizza which is usually priced under $10 for a large.  You can call in your order when you get to the store, shop, pay for the pizza at checkout and then pick it up at the food court counter!  Simple.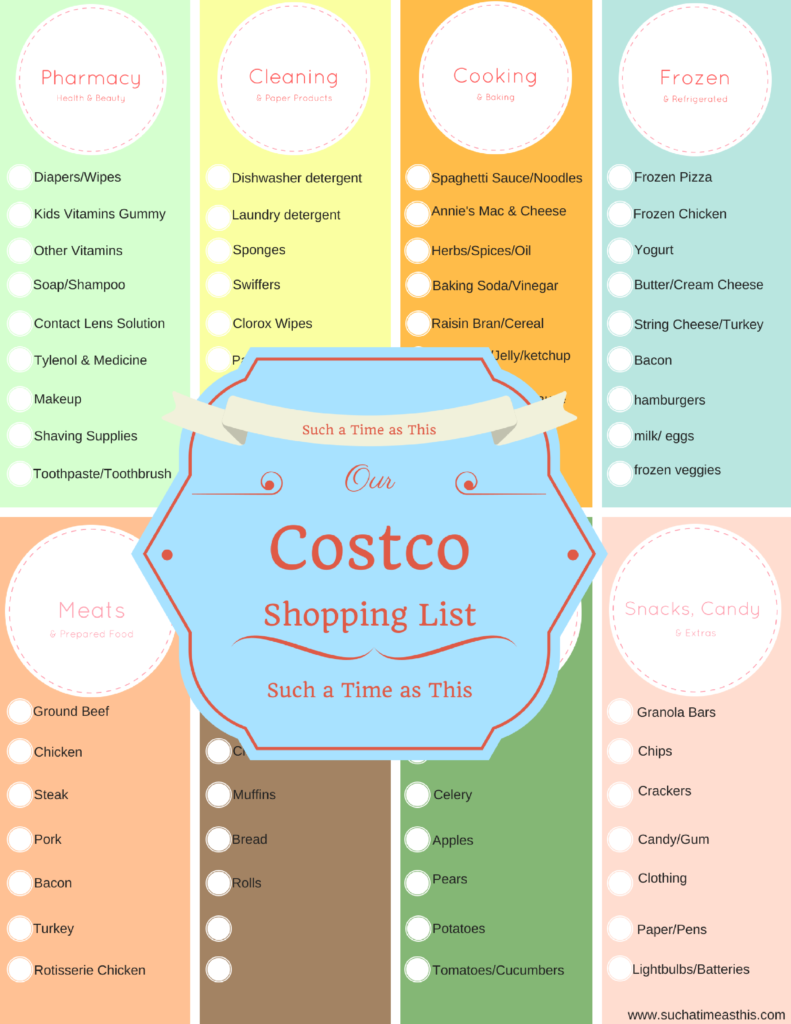 There you have it…the ins and outs of Costco Shopping.  Now all you need is your very own Costco Shopping List.  Don't forget to pick up your Costco Shopping List here (P.S. It's Free!).  I included a few blanket lists and a few with items listed.  Choose which one fits your family best!