Freezer Cooking Meal Plans
{MyFreezEasy Review}
Contains Affiliate Links.
So, you all know by now that I'm pregnant…very pregnant. I'm 30 weeks now and so it's all downhill from here. I want to eat healthy stuff. I want to have homemade dinners every night. My energy has been drained from me and I don't feel like cooking most nights. Let me start by saying I am so very thankful for this review and this opportunity to try out MyFreezEasy. The MyFreezEasy.com Freezer Meal Plan Membership from MyFreezEasy makes freezer cooking so fast and easy there is no excuse to not have a meal at home even with our busy schedule.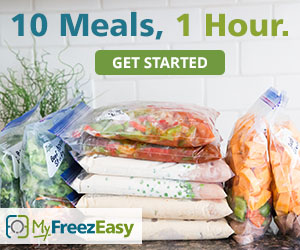 I'll be honest and say: 1. I don't LOVE cooking 2. We have 6 kids (and 1 on the way) 3. I'm 30 weeks pregnant 4. Did I mention that I'm not much of a cook? 5. I was skeptical to try this because the less time I spend in the kitchen, the better. My friend was telling me about her lovely new kitchen she build around best kitchen faucets 2017. She also has a big family so it was great to be able to get the whole kitchen up to date to deal with the large amount of food that is being cooked in there.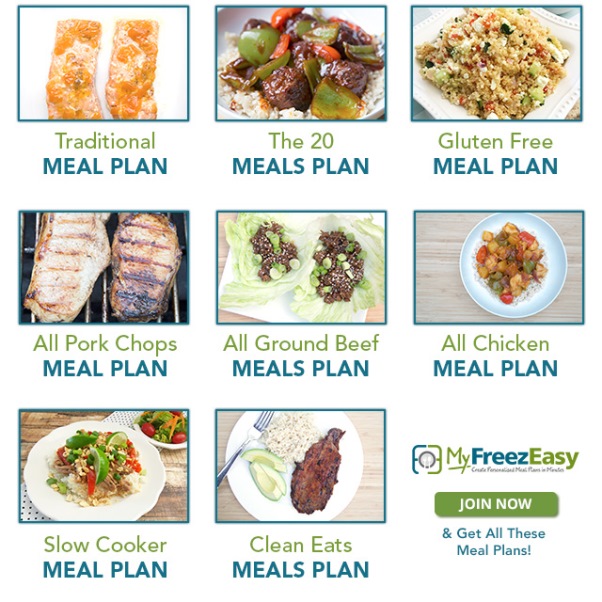 I was so very pleasantly surprised at my findings. I tried one month of meal plans out with a friend and I found out some key things about using MyFreezEasy.
1. I didn't feel like I was cooking
2. I took less time to complete than I ever thought possible
3. I did my meal planning/cooking in the morning when I was less exhausted
4. These recipes turned me into a good cook (how is that possible)?
5. I only spent 2 hours making 15 meals (because some meals I doubled)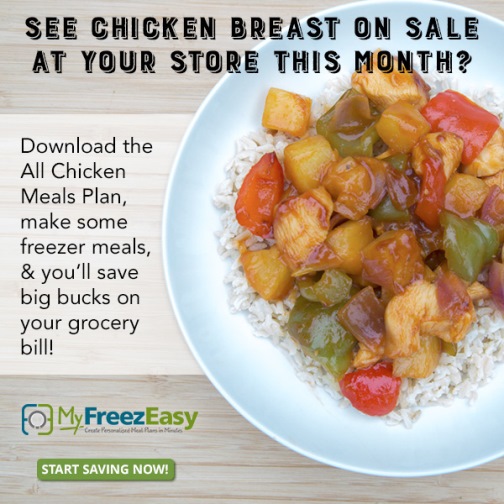 MyFreezEasy offers a meal plan for just about every food preference. They offer so many freezer cooking meal plans! Here is what they have this month:
Traditional Meal Plan
Gluten-Free Meal Plan
Slow-Cooker Meal Plan
Clean Eats Meal Plan
20 Meals Plan
ALL Chicken Meal Plans
ALL Ground Beef Meal Plans
ALL Pork Chops Meal Plans
That's a lot of freezer cooking meal plans and a lot of variety, you guys. I mean there really is something for everyone. My family has some food allergies and some picky eaters. It is not easy cooking for us. I really dread it. I decided it would be easier to swap meals on this month's meal plan. So, I was able to pick and choose meals that had the right ingredients for us and make our own meal plan up of 5 meals. This was incredibly easy to do!
I also love that she offers ways to make each meal both gluten-free and dairy-free in case of allergies. (This was printed under the recipe as a helpful reminder or tip on making these meals more allergen friendly).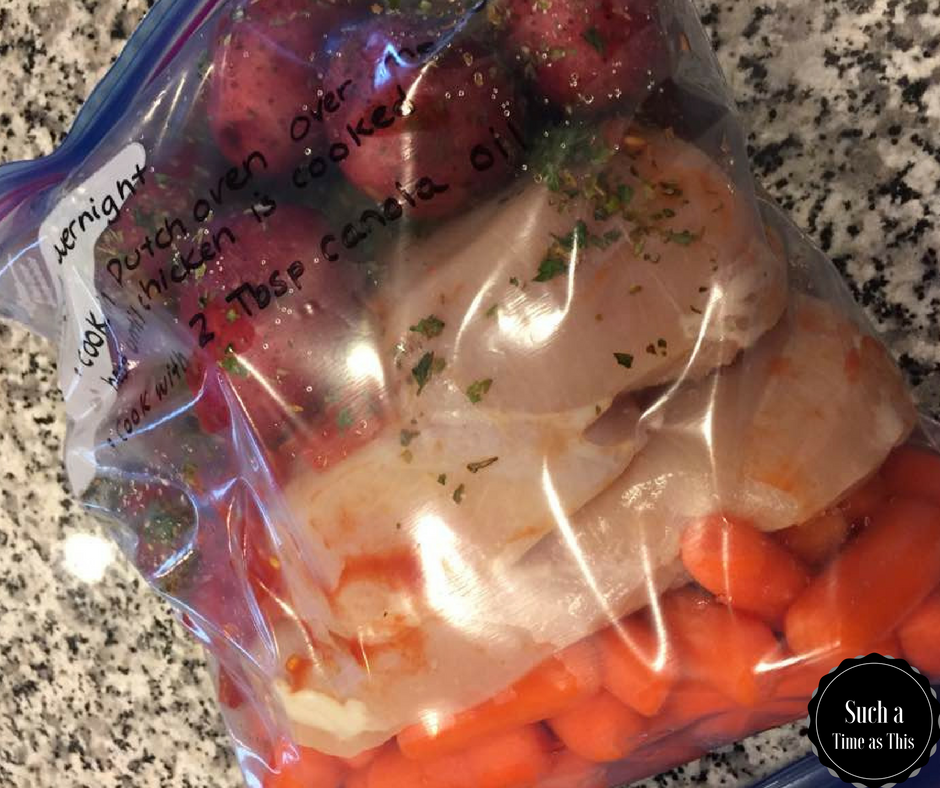 Once you decide on your meal plan you can print out the sheets. These consist of a Table of Contents (where it lists the five recipes you are making, the extra sheets you will be printing), a complete shopping list by recipe, a complete shopping list by store section or category, the freezer meal prep day shopping list by recipe and a freezer meal prep day shopping list by store section, there is also an assembly prep instructions and a meal assembly instructions. Ok – don't get overwhelmed. You don't necessarily have to use all these sheets. Let me break it down for you below:
The Recipe Sheets are completely necessary and probably the most import printout for this freezer meal cooking process. This is where you will find the recipe, how much it serves, the time it takes to prep and cook, cooking instructions for a single meal and also assembly prep for 2 meals. This sheet also includes freezing and thawing instructions, dairy-free and gluten-free modifications (if available – and it will tell you if there isn't).
The Complete Shopping List by Recipe is a helpful sheet that shows you quickly how much of each food item you will need for each recipe. This can be helpful as a reminder on the cooking day – or if you decide at the last minute to cancel out a meal from your list you can see quickly what you don't need.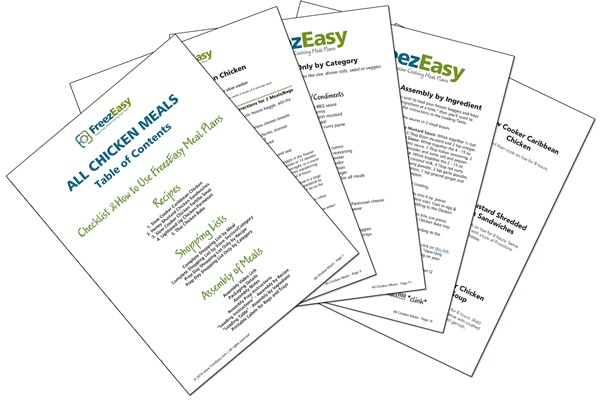 The Complete Shopping List by Store Section is great because it is a complete list. I mean this thing narrows everything down into which section of the store you will be shopping. I ended up doing most of my shopping online at a local grocery store – but this tells you category by category what you need (including the supplies like 6 gallon-size freezer bags.) This list includes everything you need including possible sides that she gives as suggestions. These are even added to your shopping list. So, I would consider this your master shopping list. If you use this, you will have everything you need in your home for all the meals (no running to the store last minute for anything).
Freezer Meal Prep Day Shopping List By Store Section is yet another shopping list but this time, it is only for your meal cooking day. This is everything you will need for that. So, if you are cooking and saving your meals for something (like the birth of a baby) maybe a month or two in advance, I would use this meal shopping list. That way, you won't have a bunch of sides and extras that will go bad before you use the food.
Freezer Meal Prep Day Shopping List by Recipe – this is another shopping list but this time, again, it doesn't include sides, it is only the ingredients used in your freezer cooking day. I think this list is best used to organize for your big day. You can make stations around your kitchen using this list because it breaks down exactly what you need for the freezer cooking day for each recipe.
Assembly by Recipe – This is if you prefer to load your freezer bags one recipe at a time. These are instructions printed out so that you know exactly what goes into each freezer bag. For instance for Cheesesteak Sloppy Joes: Half of the browned and cooled ground beef, half of the chopped bell peppers, half of the sloppy joe sauce, salt and pepper. This is kind of a little cheat sheet for quicker freezer cooking.
The Meal Assembly Instructions are helpful for walking you through what needs to be done before you fill your freezer bags. For instance "label your bags with printable labels or a sharpie, pull out all the ingredients into a central location or into stations." It also tells you what you need to chop or pre-cook. It even tells you how long your assembly prep should take you (in this case 30-35 minutes).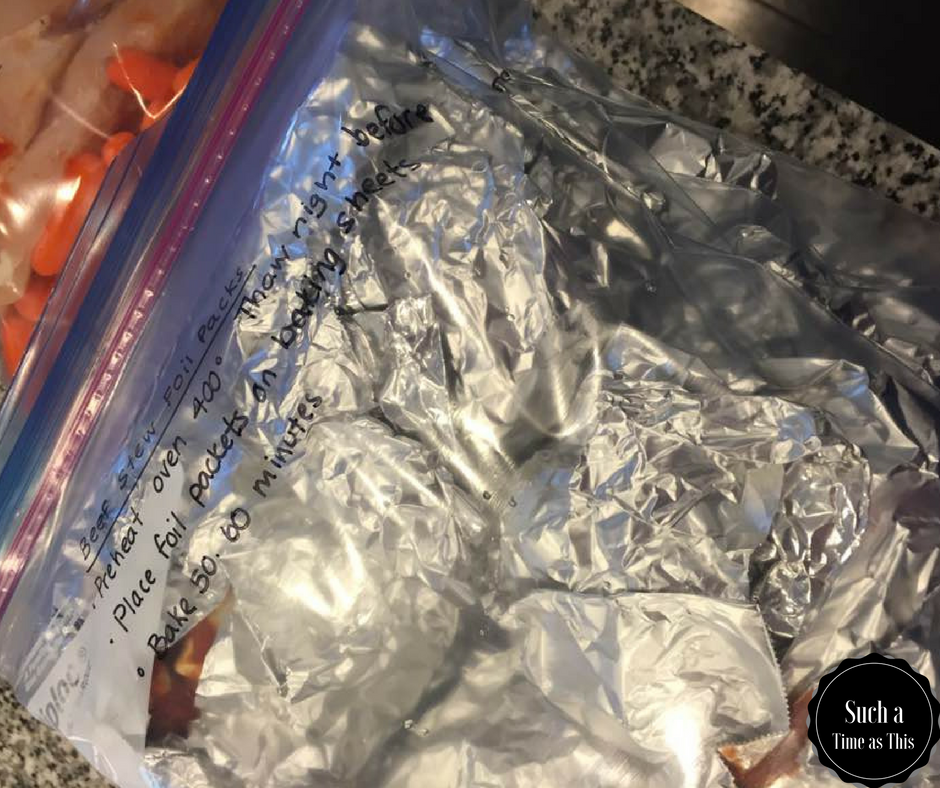 I'm very very new to freezer cooking and creating freezer cooking meal plans. I tried it another time about 4 years ago (a few months before my 5th child was born). I remember it taking a lot of time and being a huge amount of cooking on one day. Something that I noticed about MyFreezEasy is that it is so simple. I guess I should have said it is easy. 🙂
Now, there is a slight learning curve mainly because of how many sheets there are available to print out. At first, I found the amount of sheets overwhelming – now I realize that they are included because you might want to use them – but you don't have to use all of them every time. Only a few are absolutely necessary.
It took me about 2 hours (not including grocery shopping) to prep/cook/pack the meals in my freezer. I think that is pretty awesome for having made 15 meals. I did have help from a good friend. She helped me get organized, she labeled my bags and helped me pack some of them … however, I think it could potentially take us less time next time we do this because now we know what we are doing.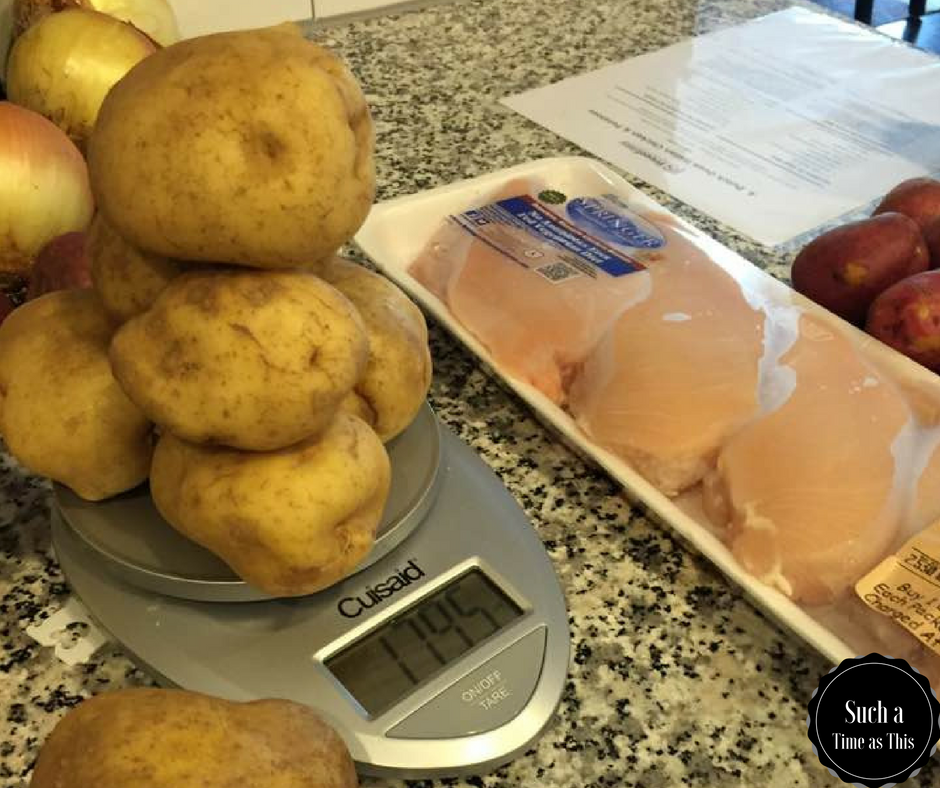 Getting Started – My Suggestions
1.) I suggest creating stations (if space allows). So we used all of my counter space creating little stations for each recipe. My friend placed each recipe around my kitchen and then we got busy sorting out how many potatoes went to each recipe (most of mine were gluten free recipes and I am craving potatoes right now…so I bought a jumbo bag of red potatoes from Costco), the meat, veggies, and herbs for each one. This way when we got to packing it was super simple. We each just packed in what we needed in our labeled bags and then put it in the deep freezer.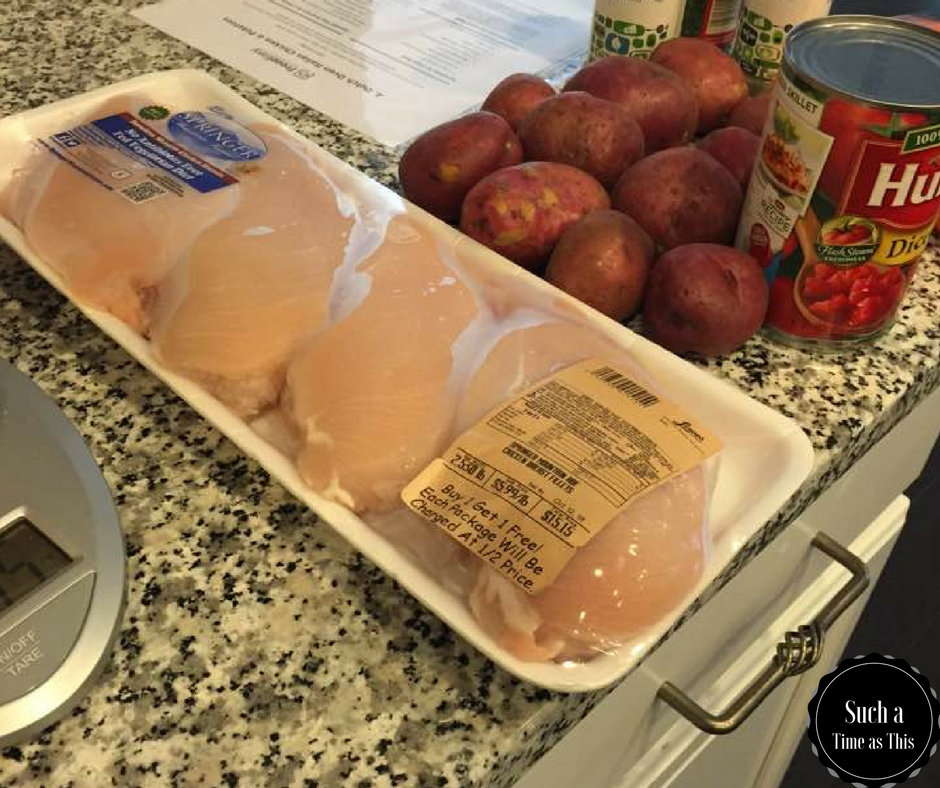 2.) Use plastic page protectors if you have them. Another friend of mine suggested this and it was a great idea. I slid each recipe into a plastic page protector so that they didn't get dirty or splashed by any of the ingredients. This way you can use them again.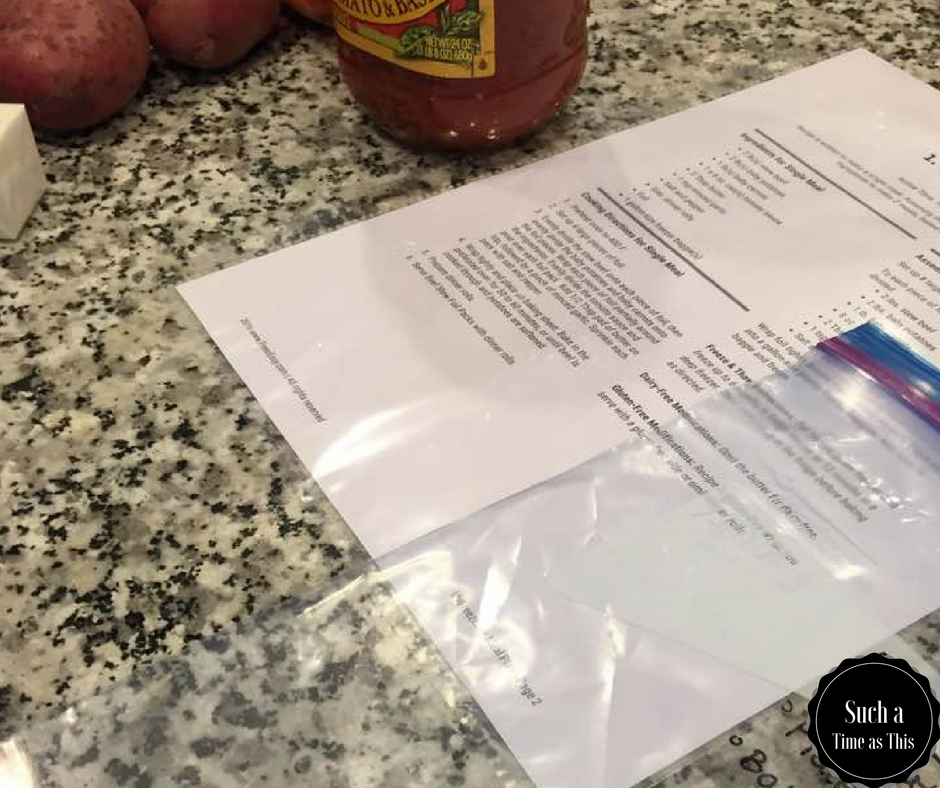 3.) When you first start out I suggest you read through your recipes and get familiar with what you need to prep (I forgot to do this and I think that is what took me a little longer than it should). Also, do your shopping the day or night before your assembly and prep day.
4.) Labels – This time I just used a sharpie and wrote the recipe name, the thawing and cooking instructions. However, there are printable labels available on the MyFreezEasy website. These look great – you could print them on label making paper (sticky on one side) and all the directions would be included – there is even a place to write the date.
5.) Utensils – you need to make sure you invest in some really good kitchen utensils and equipment. One thing you definitely need to make sure you get your hands on is a brilliant kitchen knife. After much looking around I have found the best japanese knife that cuts through anything without any issues. This is exactly what you need in the kitchen, you don't want to spend ages trying to cut one thing up!
6.) Videos – MyFreezEasy also offers short videos about the recipes and about assembly. This is very helpful if you are new to freezer cooking!
7.) Use a kitchen scale. It helps if you are weighing 12 pounds of potatoes into separate meals. Enough said.
The first night that I pulled out what I had made, from the freezer, was a happy one. It was Ranch Chicken and Baby Potato Bake. My husband loved it and asked me to make it again and it was a huge hit. All the kids loved it and best of all? It was EASY. It was also pretty healthy. I literally just grabbed the bag out of the freezer, dumped into the baking dish, put it in the preheated oven and baked for an hour. I shredded some cheese and poured it on top and baked for another 10 minutes. Voila. Dinner. Done.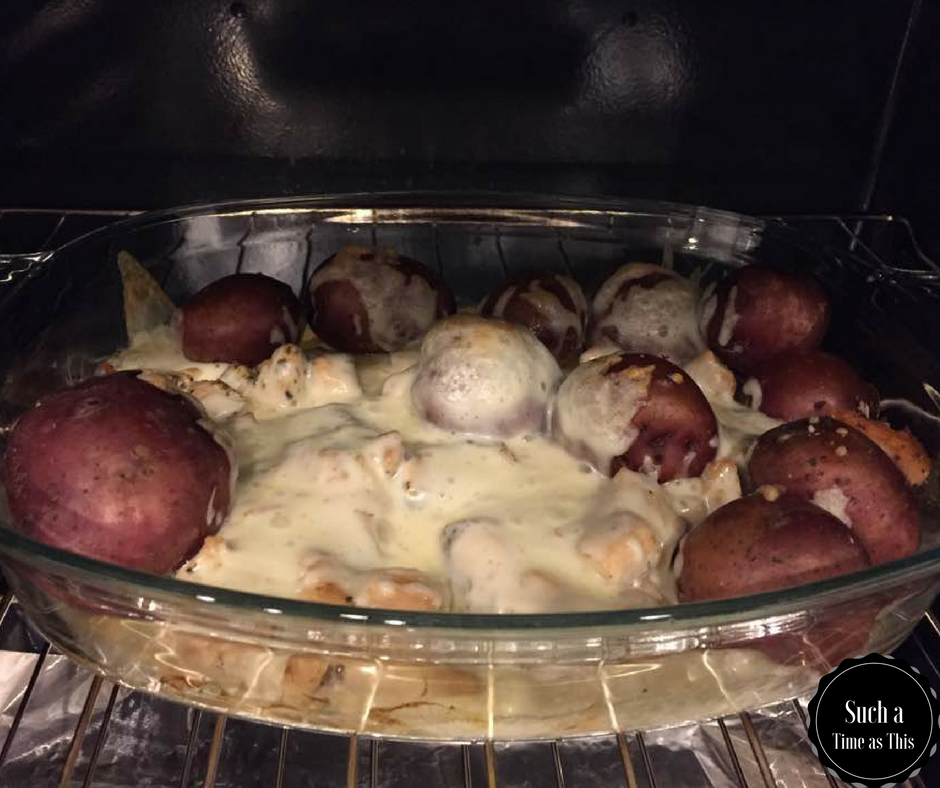 My favorite parts of The MyFreezEasy Premium Annual Membership:
Most meals use Gallon Freezer Bags instead of hard containers=more room in freezer
Awesome and Tasty Recipes
Easy Prep
GlutenDairy-Free Dairy Free Modifications for most meals
Meal Plans that Could Save Money on Grocery Budget (all ground beef or all chicken)
Easy to use for allergies or picky eaters (just grab the recipes your family can eat and create your own swapped out meal plan!)
Each recipe has an option to make a single meal the same day (without freezing)
I will definitely be using MyFreezEasy from here on out. Even if I don't use these meals every night, I will use them most. I love knowing that there is always something in the freezer – minutes away from being a completely made meal. I love knowing that my kids are eating home-cooked meals most nights. I love knowing that cooking these meals won't wear me out. If you prefer all slow-cooker meals there is a meal plan for that, as well. I like baking most of my meals in the oven. The prep is simple. The shopping lists are perfect. I couldn't be happier with MyFreezEasy. It's awesome for large family cooking.

To connect with MyFreezEasy on Social Media click below:
Facebook: http://www.facebook.com/freezeasy
Instagram: http://www.instagram.com/freezeasy
Pinterest: http://www.pinterest.com/5dollardinners/freezeasy
---