Timeline Game Review
This post contains affiliate links.  Please see my disclosure policy.
We recently discovered a game called Timeline
– Inventions.  It is a card game that is easily played with multiple kids ages 8 and up.  This game is made up of a deck of cards – the dealer deals a certain number of cards to each player which are to remain face down.  Each side has the same picture on it of an invention but one side has a date also written on it.  The date is meant to remain unseen until played.
The goal of the game is to be the first person to lay down all your cards.  You can only lay down one card per round.  If you get an answer wrong you discard your card but then you immediately draw a new one.
This Timeline game begins with one card face up in the middle of the table.  Then the players begin to play starting with the youngest player and then moving clockwise.  The first player must decide when their invention was first created – before or after the card which is face and date up on the table.  The game then progressively gets harder and more challenging.  If you are next player you must decide if it occurred before or after the first card, the second card or in between them both.  This game was certainly a challenge for me!  My kids have enjoyed it but we've chosen to only play with our 9-year-old, 11 years old, and 13 years old, as well as my husband.  My 11-year-old has done the best of our kids.  This game takes some knowledge and a lot of reasoning skills to guess when each invention was invented relative to the other inventions on the table and to what we know of history.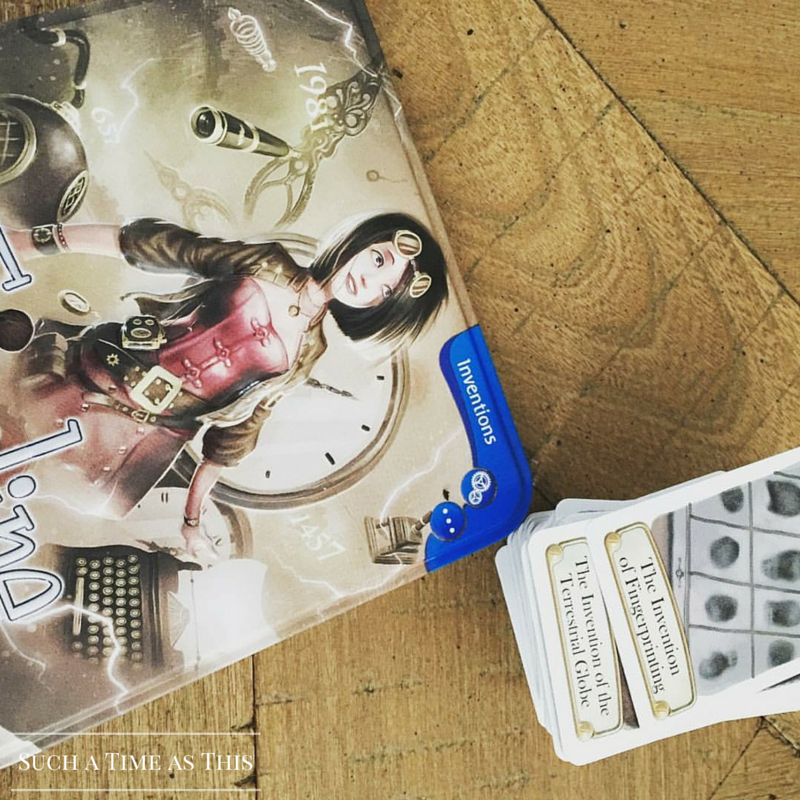 I love this Timeline game because while it is a blast to play with the family, it is also very educational!