Hi guys!  My kids and I have been sick since the end of last week.  Slowly this bug has crept through our house.  It seems like the beginning of the Fall is upon us.  I haven't gotten much accomplished this week, other than taking care of the kiddos and resting.  However, I did want to let you know of a linky party that I'm joining up with.  It is called, "Read Aloud Wednesday".  Please join us and link up any reading related posts.  My family and I are Charlotte Mason Homeschoolers, so we are always looking for good quality literature.  Last week, I shared my favorite read alouds for preschoolers.  I can't wait to see what you all have been reading and what your kids have been reading.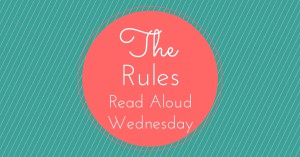 Here are the rules:
1.) Follow your hosts via their blog and/or social media channels. 
2.) Link a post specific to what you and your children are reading, favorite books, book reviews, or what you've enjoyed in the past.  It doesn't have to be a read aloud.  It can be what your kids are reading and studying.  It should be homeschool and/or reading related. *Just a reminder we reserve the right to delete any posts that are not family friendly.
3.) Visit 1-2 other links and leave a comment!
4.) Grab a button and post it on your page or post!  Let others know about this link-up!
Grab a button!