This post is a difficult one to write.  I've been putting it off all day and so I just decided to get on with it because I would love to spend the rest of the night playing silly games with the kids and counting down the New Year.
I feel like I have so many goals for this coming year.  So many thoughts whirl in my mind.  One, though, stands out before all the rest.  Even thinking about it makes me feel nervous-excited all at once.  
It's that feeling I get when faced with a giant fear that I carry around but I know very soon I will have to step out in faith anyway.  Like the moment I step onto an airplane (against all my better judgements), or check into the hospital the day of my baby's birth, or me setting off to potty train the two year old.  Face it.  It's happening.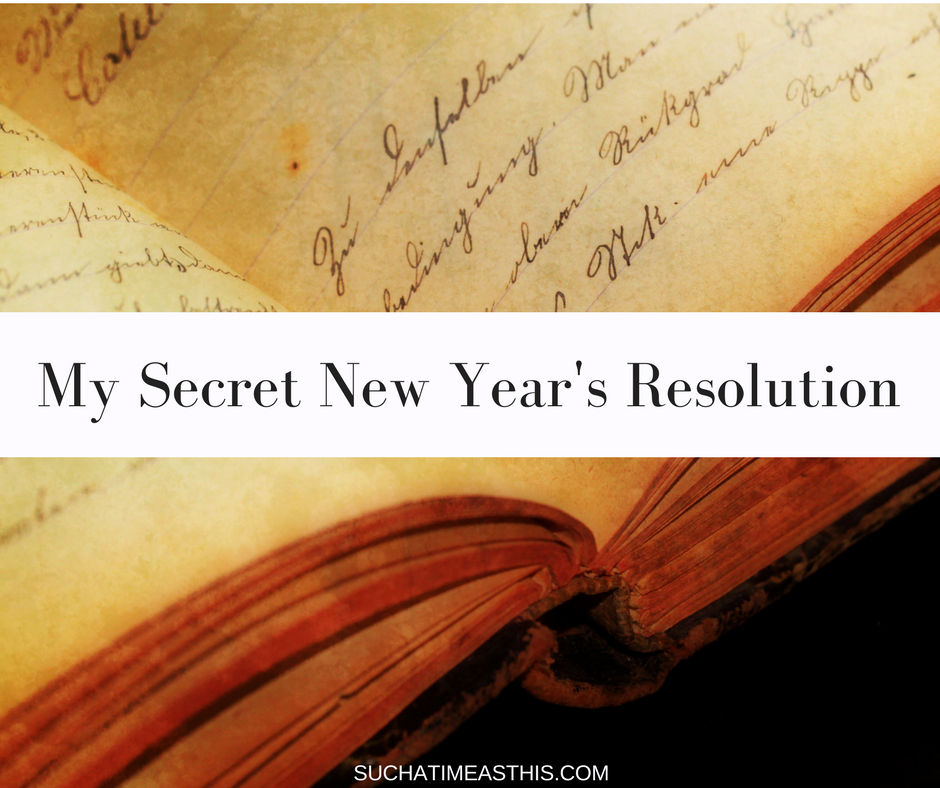 You see, I've been keeping a bit of a secret, which really isn't a secret at all.  Ever since I was a little girl I have had one dream that had filled my mind.  That goal was to write and to make that writing into a book.
I was the girl who carried around a journal in the anxiety-ridden high school years when everything felt upside down.  I wrote my fears.  I wrote my dreams.  I wrote poetry.  It helped me cope and allowed me to understand the world.
Having a pen and notebook in hand was truly something God gave me when I found myself in a slump at age 15.  New school, new friends, too many thoughts, an overflow of fears.
I found as time went on that writing birthed me into a woman who could deeply understand and grapple with my own feelings.  At the same time writing helped me understand the world around me.  As I grew up the thoughts of that childhood fantasy taunted me as I saw the years get away from me.  I faced a grim reality a few years ago when I acknowledged that I probably would never write that book.
But then something happened.  I saw that fear and I called it by name.  I recognized the root of that fear was really failure.  Suddenly, truth danced before my eyes before it hid just out of view.  The fear that I faced wasn't of writing the book.  The fear that encompassed me was simply that I would fail at writing the book.
For the past year I verbalized my fear.  It truly is irrational to think that I can write a book that matters to anyone.  Because who am I?  There are a million more talented people in this world.  There are more intelligent, highly educated, and trained writers to be found.  There are people who have interesting stories to write.
But then my 12 year old son challenged me.  So what?  He asked.  Is it worth it to not try at all?
What message am I sending my kids if I hide in fear of failure and don't ever risk stepping out of the shadows? Even if it is only heard by my one family, the truth of facing your own giants is bigger and better than any New York Times Bestseller could ever be.
The last several months, I've been encouraged by my son to write.  He asks me almost daily if I've written anymore.  Each day I feel the knot in my stomach as I realize this is going to happen, one way or another.  Because, now I have my reason.  I can't let my boy down.
Just when I found myself too scared to even try I found out that some of the most beloved authors were rejected multiple times before their book was published.  These authors include Margaret Mitchell (Gone with the Wind), Rudyard Kipling, Madeline L'Engle (A Wrinkle in Time), John Grisham (A Time of Kill), Louisa May Alcott, and even Beatrix Potter!!!  Who could turn away beloved Peter Rabbit?
I plan to share some more of my resolutions tomorrow but for tonight, I've done what I set out to do.  I've told my secret of 2017.  Maybe the truth is we should all be bold in 2018.
What is your goal for 2018?  How can I pray for you?
I wish you a beautiful New Year's Eve!