Dyson 360 Eye Robotic Vacuum Review
I was recently given the opportunity to review a new Dyson Vacuum: Dyson 360 Eye™ robotic vacuum.  This little vacuum is amazing.  I was shocked when I took it out of the box to see how small it was but was ecstatic to see how well it cleaned my home.  I'm 30 weeks pregnant and I don't look forward to vacuuming in the traditional way – but this little guy does the work for me.  
When I first took it out of the box, I quickly scanned the manual that came with it.  All the directions were so clearly printed out – it left no guesswork for me.  We were able to set it up and charge it in no time.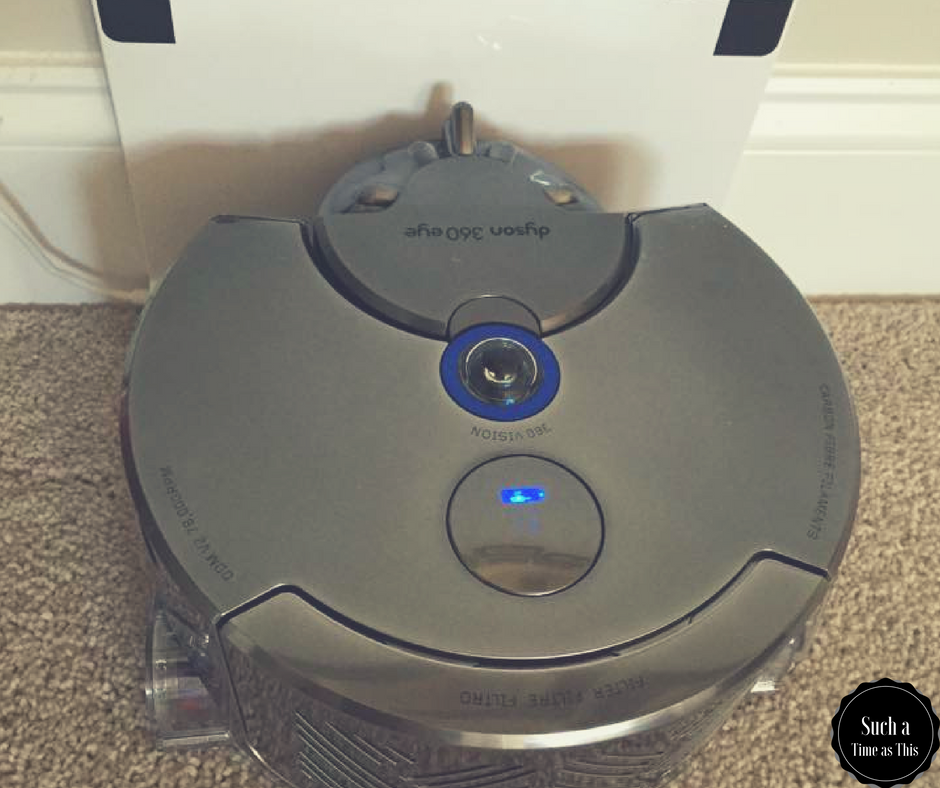 I immediately set up the app that works with the Dyson 360 Eye.  It is so simple yet so efficient.  It is through this app that you can control when your vacuum starts up, find out when the vacuum needs to be cleaned out, or if your vacuum has a problem that needs to be solved.
We started out cleaning our bedroom and it did a fantastic job.  We then moved it to the Master Bedroom closet and later to the hardwood floor.  I was so happy to be able to put my feet up and watch it do the work that I would have been doing!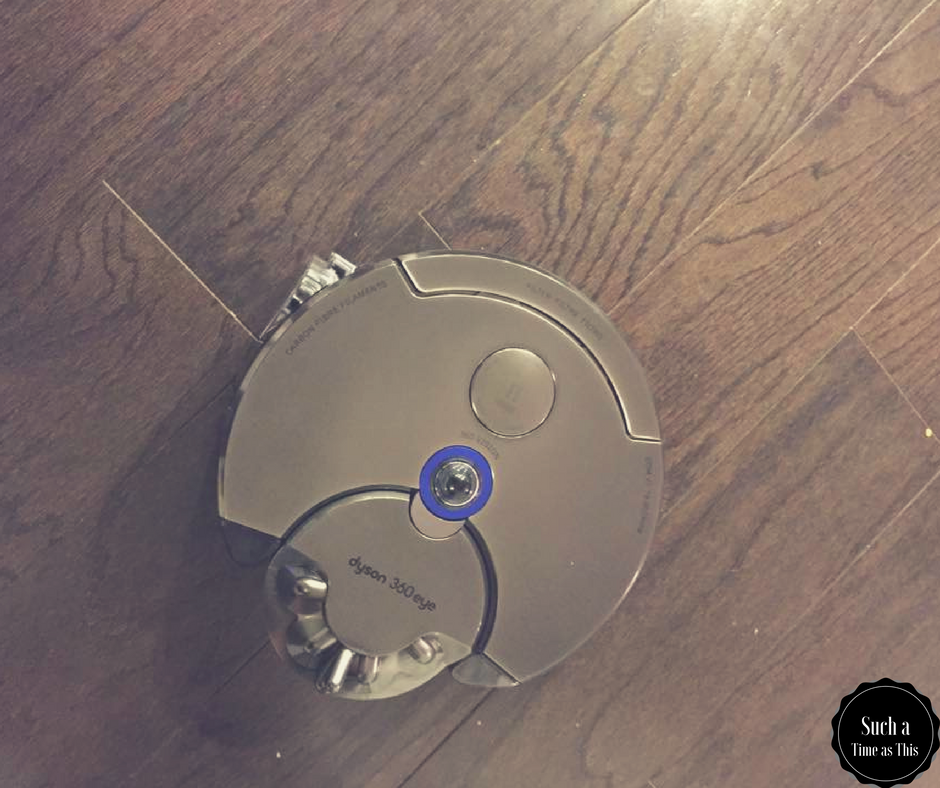 What I love about the Dyson 360 Eye™ robotic vacuum:
It does all the work.  Seriously, you just push a button and it will clean your entire room and in some modes it will go back to recharge when it needs to.  This is awesome.  The only thing you ever have to do is clean it's dust cup (and periodically the filters).
It features a 360 eye.  This vacuum has a small camera on top of it that helps it understand the layout of the room, including where furniture is.  It actually makes a copy of the floorplan of what it has cleaned and sends it to your phone app.  This way even if you are not home, you can see what exactly it cleaned.
It won't fall down the stairs.  We tested this out when it cleaned our upstairs loft.  It has special sensors that allow it to detect depth and it will not accidently fall.  I'm thankful for that because are steps are hardwood and that would have been a bad fall.
It includes a free app for your phone.  This is outstanding.  The directions are simple to set it up.  I am not that tech savvy and I found it extremely easy.  Once set up you can program the robot for cleanings, you can check on what it has cleaned, you can even see if there is a problem through their alerts.  This leaves the guess work out of what is going on with our robot.  An added feature? You can name your little robot and the app will refer to them by name!  I, personally, thought that was fun.
It contains a lot of suction.  This is a strong, powerful, vacuum just like other Dysons which I have used.  You would not believe all the grit and dust it got off my floor and placed safely in its dust cup.  
It works on both carpet and hard floors.  We have used this in our foyer (hardwood), the master bath (ceramic flooring), and the bedrooms which are carpeted.  We have also used this in the dining room (thin carpet) and all of these places it worked extremely well to clean and pick up even specks of dust.  The only rug in our house it didn't work well on was our shaggy carpet in the living room.  To be fair, I can't use any vacuum with a rotating brush on this carpet because it has too much pile.  
The dust cup holds a good amount.  For being such a small vacuum, it holds a lot of dust.  The container, which is easy to empty, needed to be emptied after it cleaned our large master bedroom (which hadn't been vacuumed in a while, so I expected that).  It can clean a few smaller bedrooms without having to be cleaned.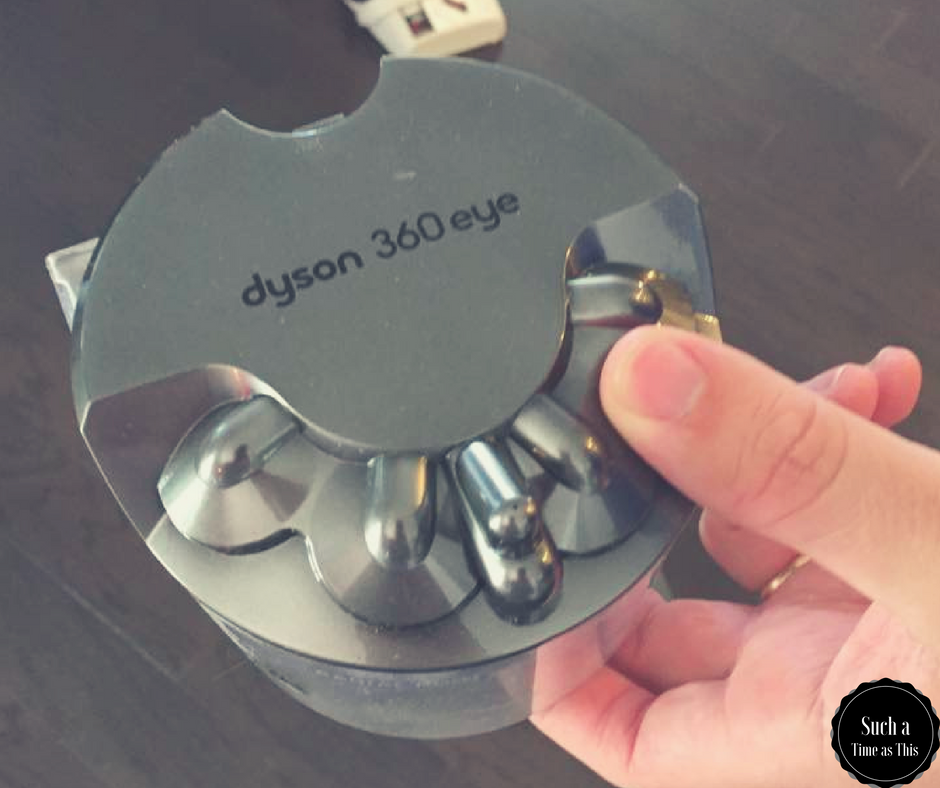 It is so easy to charge.  I mentioned above that it can charge itself.  If you are cleaning a room that is far from its base (or on a different floor of your house) then you will have to manually place it back either when it is out of power or when it is done cleaning.  There is no guesswork to how to charge this thing.  It is so simple – it just sits next to it's charging station which is plugged into a wall outlet.  I was happy to see how easy this is.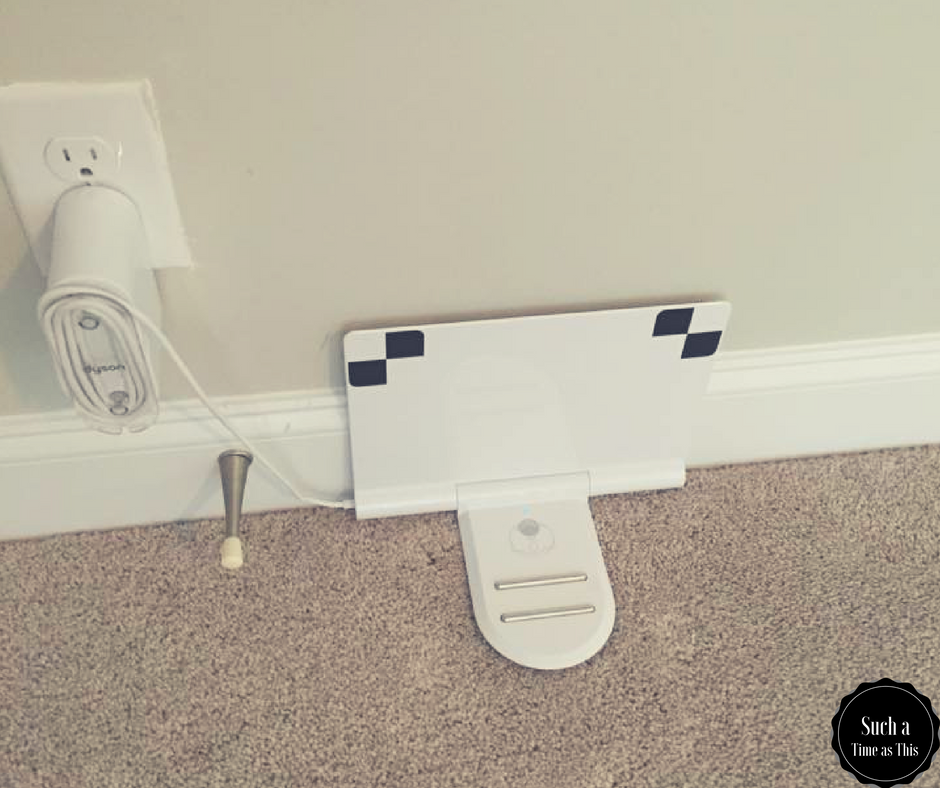 Grid pattern of cleaning: My husband and I both liked that it cleans in a grid pattern.  Because it has an "eye" it can see where it has been and where it needs to clean and it does so in straight lines.  This gives a very clean look to the room once it is finished.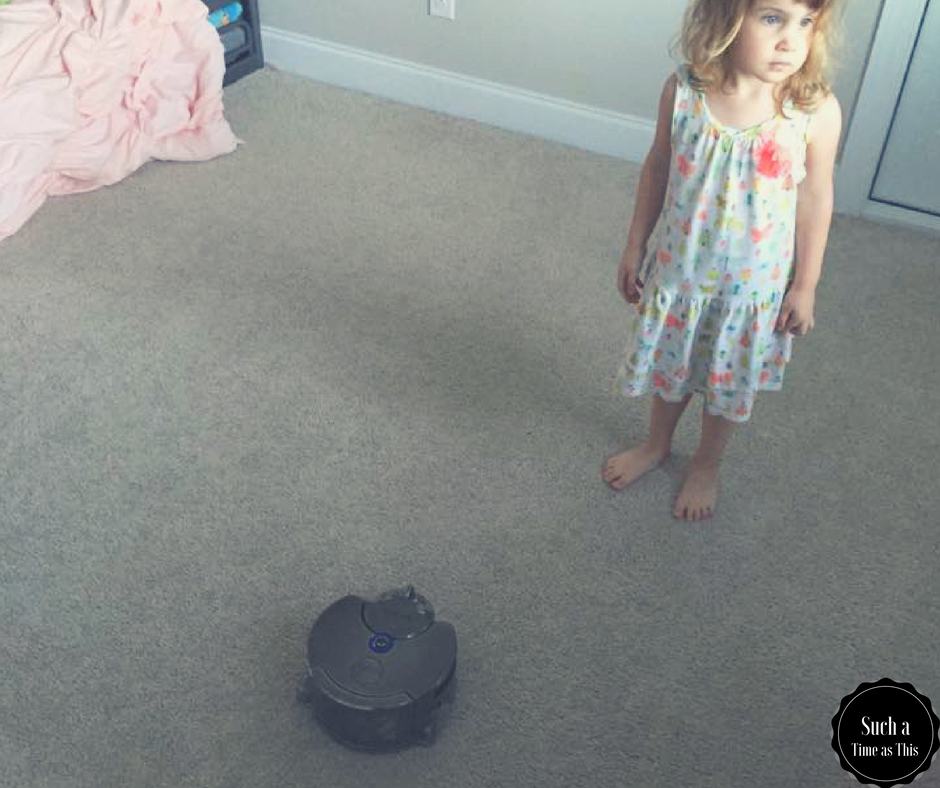 This machine has gotten my family excited about cleaning!  Ok – this might be the coolest part of all!  Not only has it helped me out tremendously as I await the due date of this baby…but my older kids are now racing to clean their rooms to see the little robot clean their floors.  I kid you not.  They all love it.
I absolutely love and recommend this little robot!  It does the work of a large powerful vacuum in a tiny vacuum body.
---
I received this product for free in exchange for my honest review.   All opinions are my own.