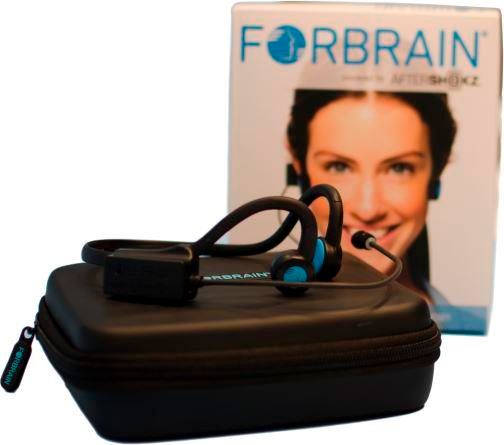 Two of our sons have been diagnosed with auditory processing disorder and have struggled because of it.  I was so excited when
Forbrain – Sound For Life LTD
sent me a package with their
bone conduction headset
!
What is Auditory Processing Disorder?
Auditory Processing Disorder directly affects how the central nervous system communicates with the auditory/hearing system.  Children can be negatively impacted because of Auditory Processing Disorder. It sometimes goes along with other problems such as Sensory Processing Disorder, Dyslexia or Autism. It might make it difficult to hear in noisy rooms, follow directions, and even to communicate.
What is Forbrain Bone Conduction Headset?
It is a unique device that looks like a typical headset with a small microphone that goes down close to your mouth.  The ear portion doesn't go in the ear like a traditional earbud but in front of the ear on bone.  This fascinating technology is based on extensive research regarding sensory integration, vibrations, and how are voice, brain, and ear works together.
It was designed to improve attention, auditory processing disorder, sensory processing, short term memory.  It even is supposed to help with speech goals like fluency, sound discrimination, and pronunciation.   According to their website, "Bone conduction transmits the sound of your own voice 10 times faster and with greater clarity than air conduction."  Because it allows you to hear your own voice better, you will be able to speak more clearly and display better production in sound.
How do you use it?
If your child struggles with speech delay or auditory processing disorder they should wear their headset for 15 – 20 minutes a day for five days a week (older kids and teens might benefit from the 20-minute time frame while younger should stick with the smaller time).  This product should be used for at least 6 weeks.  While wearing the headset they can talk, sing or read a book aloud as long as they are speaking the product can work.
How did WE use it?
We have two sons who have both been diagnosed with auditory processing disorder.  Our oldest son, A, has it along with sensory processing, autism, speech delays, articulation problems and language processing disorder.  Our second son, B, has auditory processing which was diagnosed alongside his dyslexia and dysgraphia.  He doesn't have actual speech issues like A does, but he does struggle with comprehension, reading skills, and following and listening to directions.
We used this during school hours for 15 minutes a day.  The boys took turns reading books aloud during this time period.  I had the boys take turns reading Dr. Seuss books to me and to the younger kids, while B alternated with that and reading his own chapter books during his headset time.
What did we think?
I wasn't sure what I was looking for with the kids using this product.  I was excited to think that they might improve their language skills and with their auditory processing disorder.  I haven't noticed a big difference in our oldest son's speech, articulation, language or auditory processing disorder.  He didn't particularly care about using it, either.  He didn't ask to use it but also didn't fight me on it.
I did see some mild differences with our younger son.  Typically, B, speaks loudly and doesn't recognize how loud his voice is.  I think Forbrain actually helped him recognize his voice and tone it down while he was speaking.  I also noticed that he liked wearing it and enjoyed reading with it on.  He seemed to enjoy reading time, which he typically doesn't.
I think this headset will work for some kids and not for others.  It is hard to know why it worked better for my younger son than it did for my older.  One idea I had is that perhaps because my oldest has several neurological conditions that interplay and cause speech problems, it would take more to help him.  I'm not sure.  However, we did have some success with our younger son!  So, if you want to check out this headset for your child click here to see Forbrain – Sound For Life Ltd.
---
Facebook : https://www.facebook.com/forbrainLTD
Twitter : https://twitter.com/forbrainheadset
LinkedIn : https://www.linkedin.com/company/forbrain—retrain-the-way-you-process-information
---
To read more reviews from Schoolhouse ReviewCrew, please click here:

---