Math Games for 4th & 5th Graders learning to Multiply and Divide
{Sunya Review}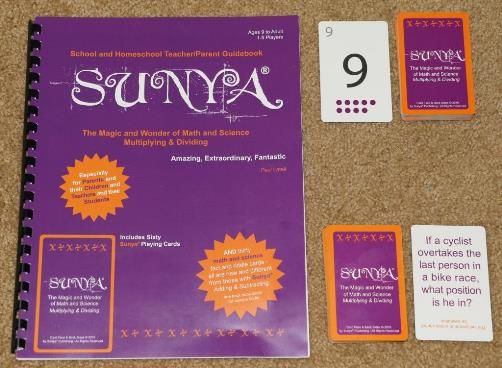 We love family games.   We look forward to finding new games for family fun nights, a spare time during school hours, and sometimes just for the kids to play in their free time.  For the last several weeks, we've been playing a new math game from
Sunya Publishing
called Sunya – The Magic and Wonder of Math and Science Multiplying & Dividing.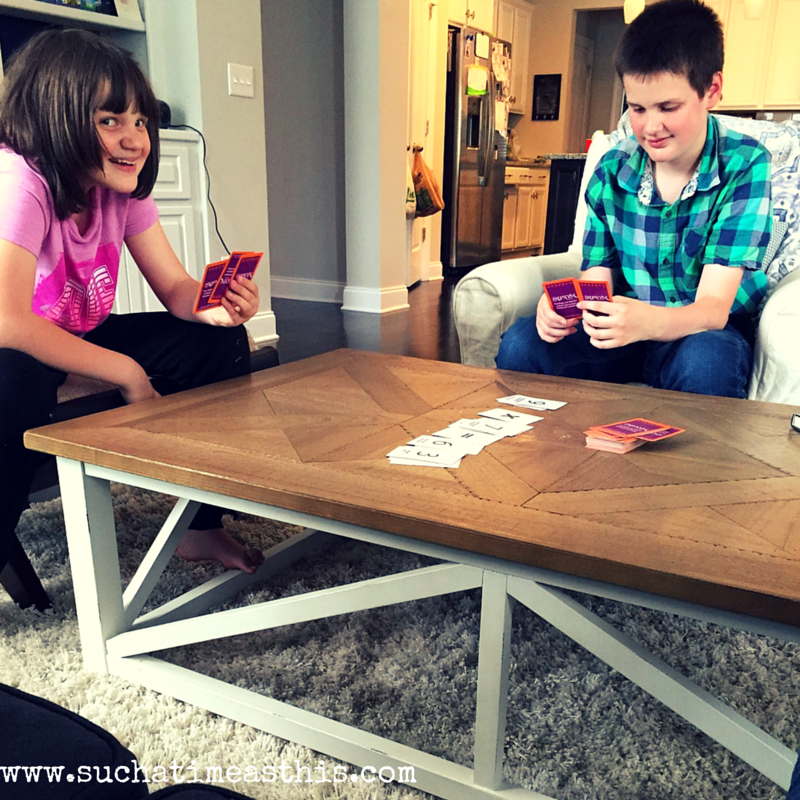 Sunya – The Magic and Wonder of Math and Science Multiplying & Dividing is a card game geared toward kids ages 9 and up and is comprised of two decks of cards: sixty playing cards and thirty fact and riddle cards!  Sunya sent me the cards and a pretty extensive instruction booklet which goes with the Multiplying and Dividing game.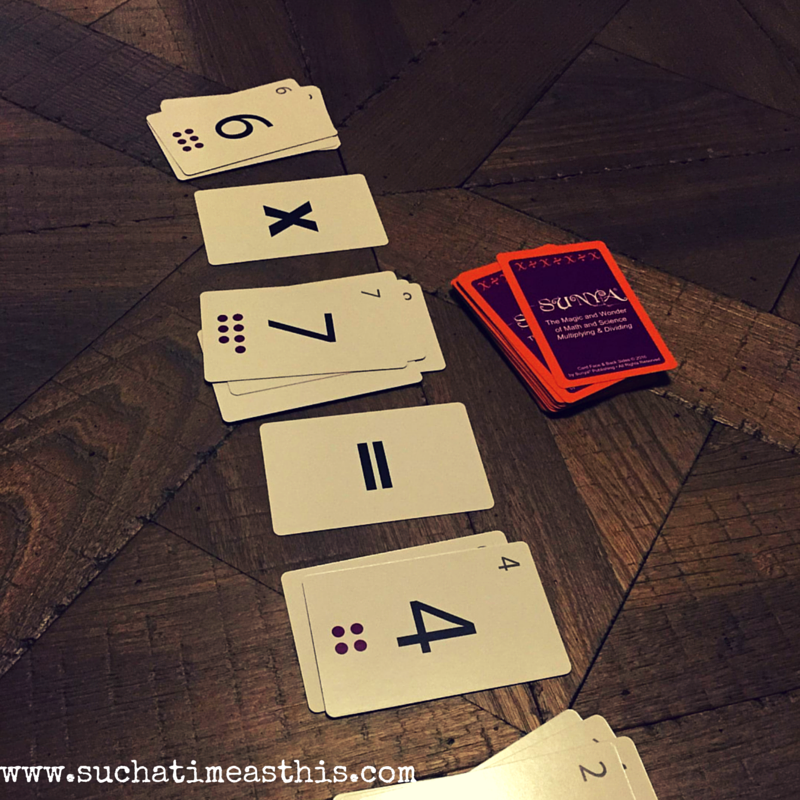 The sixty playing cards are numbers, wilds, and the multiply, divide and equal signs.  Although there are multiple ways to play this game listed in the booklet, we stuck with the basic game.

In the basic game, you deal four cards out to each player, and then the dealer lays down a number sentence to begin the game.  The number sentence can use any of the cards except 0s, 1s, or wild cards.  Once the number sentence is on the table, the game begins.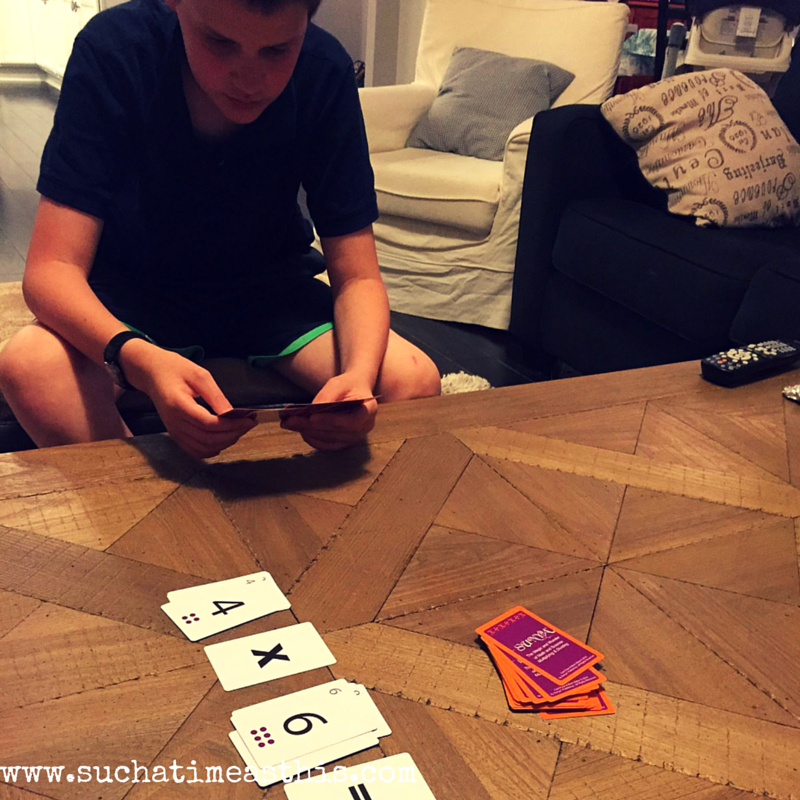 Each player gets to take a card from the deck, on their turn, and then try their best to make a new number sentence (by laying as many cards as they can on top of the existing number sentence).  The player may choose to use some of the cards that are already on the board, or use all new ones (from their hand).  The game ends when the first player uses all their cards that they are holding.  Before they "go out" they must say "Sunya" which means empty in Sanskrit.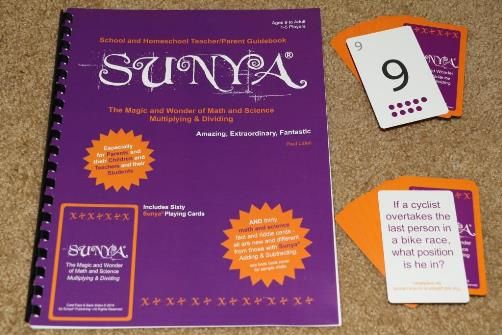 At the end of the game, when the winner is revealed, they get to pick a card from the pack of facts and riddles and read it to the rest of the players.  They get to peak at the correct answer (on the card) and help the other players come up with the answer.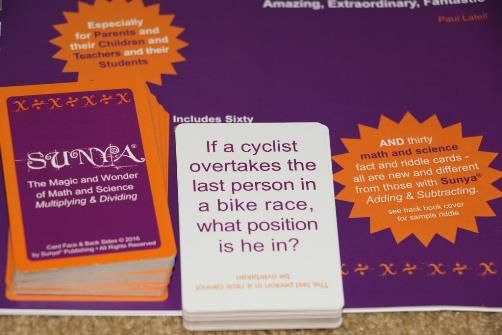 My kids and I enjoyed playing the basic version of Sunya – The Magic and Wonder of Math and Science Multiplying & Dividing.  We played with my oldest three kids ages 9, 11, and our special needs 13-year-old.  We played many open hands to assist the two kids who are still learning their times tables.  This is a fun way to reinforce what they are learning and to help them sharpen their recall on their math facts.  It was also a good reminder for my 11-year old who does know his math facts.  We played this game sometimes during school hours, as part of our math lesson for the day and we also added it to our family fun nights a few times, to change things up.  I think this a fun game that is also very educational and would be great for kids learning to multiply and divide.
---
To read more reviews from the Schoolhouse ReviewCrew please click the banner below:

---