Contains affiliate links. Please see my disclosure policy.
Make Over Your Evenings
Being a mom is hard – and being home all day seems even harder.  It is difficult at times to get organized. I want to have a morning quiet time.  I want to be prepared for everything.  I want to not be grumpy because I'm waking up to a sink full of dirty dishes that I was too tired to clean after dinner.  If this is you, you are NOT alone!
I want to just let you know quickly about an awesome opportunity.  I hope you'll join me in this adventure!  A brand new product is being launched right now by Money Saving Mom!  It is an on-line course called Make Over Your Evenings.  Both MOYE and MOYM is on-sale today for a limited time.  The normal price is $17 but it is being launched at these prices:
7 a.m. to 12 p.m. – just $7!
12 p.m. to 5 p.m. – only $10!
5 p.m. – 12 a.m. – only $13!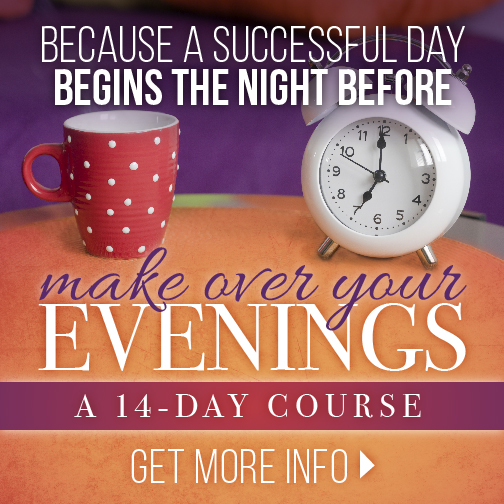 In this 14-day course, I will teach you how to maximize your evenings in order to experience more success in your life, more order in your home, and more joy in your soul. –Crystal Paine
With Make Over Your Evenings, we will learn some important things, including how to:
Create a Routine that works 
Make a To Do List for each day 
Figure out what is most important to you right now 
Get rid of conflicts on your calendar 
Learn how to take care of yourself 
Put together simple outfits that make your look and feel great 
P.S. Don't forget, there is a 100% Money Back Guarantee … To Buy MOYE Click Here