I was given a complimentary membership of this product in exchange for my honest opinion.  All opinions are my own.  Please read my full disclosure page.
I was recently given the opportunity to review the SchoolhouseTeachers.com Yearly Membership.  I feel honored to have the ability to share with you all about this awesome resource for homeschooling families.  It is the time of year when many of us are re-evaluating our homeschool.  We might take a good long look at what is working and what isn't.  I was very excited to see the variety of courses offered on Schoolhouseteachers.com!  This is the perfect time to check this out for yourself!

What I Love
What I love about SchoolhouseTeachers.com are the many online classes in addition to the ease of use.   There is a record keeping section along with homeschool planners.  I can't stress enough how awesome this section of the site is.  They even offer a planner for special learners (which includes a section on IEPs, therapies and food and behavioral charts).  I fully intend to utilize these features for use with my oldest son who has special needs.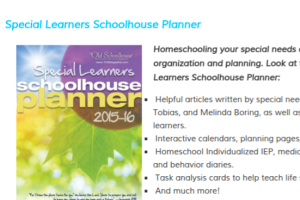 They also offer core curriculum and electives aimed at all ages but I especially am fond of what is offered as an elective in the elementary grades.  These include home economics, music theory, art techniques, photography and a few other classes!  I quickly noticed the incredible amount of preschool oriented classes, as well, which fit well for my 3.5 and 5 year old.  They also have numerous nutrition classes, math & science and even classes aimed at parents of special needs children.  Once you are a member, it is all right there on the computer screen for you to use!
Once you log on, you'll see the courses are divided up into subjects like art, electives, foreign language, science, math, language arts among others.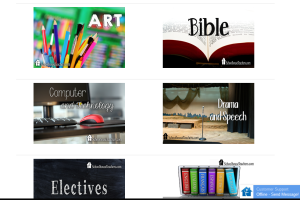 After picking your subject matter, you can see what is offered for each grade level.  It is divided up between pre-school, elementary, middle school and high school.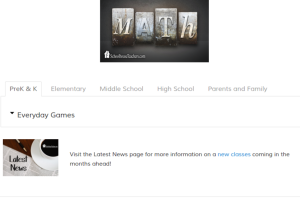 It couldn't be any easier.  So many awesome classes are literally just a click away!
How I'm Using SchoolHouseTeachers
I plan to use the Charlotte Mason Preschool lessons with my younger kids.  I love that they include specific topics to study and outline of the books that are needed.  This goes hand in hand with my educational philosophy and I think it is a perfect fit for my young kids.  Character training for Young Princes and Princesses also looks great for the little ones in our home.  This is a character training course in video format.
We are just beginning to use Home Economics with my older three kids.  This course covers topics such as personal hygiene, cleaning and money management.  It also covers cooking, measuring, party planning and hospitality.  I knew my daughter would especially enjoy this but I think it is beneficial for the boys as well.  I was searching for a course exactly like this before I found SchoolhouseTeachers.com  I'm so excited to use this with my 3rd, 5th, and 7th grader.
I'm enjoying the Daily Grammar and Daily Math!  These are excellent to use for extra review to what my children typically use for these subjects.   My 8 year old especially needs some extra review, so I'm happy to have this for her.
I want to also mention there is an excellent looking homesteading course for those of you interested in it.  It includes recipes and ideas on making homemade cleaners, using essential oils, canning, gardening and more along these lines.  It looks like an excellent resource for anyone interested in making these types of changes to their lifestyle.
Right now for a limited time get half off a one year subscription!  Use coupon code:
CREWFOLLOWER  The coupon is valid through 1/31/2016.

---