Contains Affiliate Links.  Please read my disclosure page.
What is Periscope?  Everybody keeps talking about it and still so many haven't taken the first steps to join in the fun!  Periscope is a BRAND NEW Social Media Platform which allows the "scoper" to talk to people all over the world in real time!  The followers (or viewers) can watch, comment and share and spread the love in the form of hearts (tapping the screen).  They can watch in real time or on replay – but it is only available for 24 hours!  It is not only fun but very informative.  People are Periscoping – all day, everyday.  
You can find someone talking about homeschooling, art, music, blogging tips, Instagram, making money, their products, there are even a lot of musical performances live on Periscope!  There really is something for everyone.  I'm on Periscope periodically – just search for my handle: @suchatimeblog.  I would love for you to join me!  My scopes are a time when you can find out more on a particular topic (I've done scopes on autism, homeschooling & dyslexia, my favorite curriculum, crafts for kids, art along with a few others).  It is fun to get to know you better and you can ask questions, as well!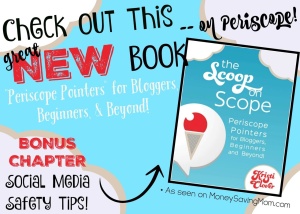 I recently read this new book by Kristi Clover of the blog Raising Clovers.  She is a Periscope EXPERT.  I actually started watching her on Periscope several months ago and I realized right away that she knows what she's doing.  She quickly built a Periscope following which also spread over to her YouTube channel and her blog.  In this book, "The Scoop on Scope" she shares with you all of her tips and tricks and even offers a bonus chapter on social media safety.  If you are a blogger or a newbie to Periscope – you need to read this book.  It is an easy read but very thorough!  
Here is a glimpse at what is included:
How to use Periscope

Pointers for Doing your First Scope

Tips for Before, During and After your Scope

Ideas and Topics for your Scopes

Finding Followers

How to Make Money through Periscope

Safety Tips
This kindle book is only on sale at it's intro price of $2.99 for 2 more days!