Contains affiliate links but I only recommend products I love.  Please read my full disclosure policy here.
Fall Style for Moms
Not too long ago, my sister and I were having a conversation.  It went something like this:
Me: "Did you catch Downton Abbey last night?"
Her: "Yea – I just love the way they dressed back then. Such elegant styles."
Me: "I know – don't you wish you lived back in the early 1900s? I would love to dress that way." 
Her: "Have you heard of ModCloth? They sell clothes that look like you just walked off the set of Downton."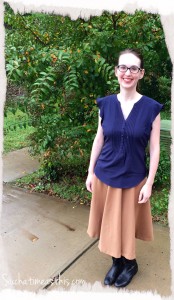 And a new love was born.  I hadn't heard of ModCloth, the online store that sells clothing in styles from many decades from the past hundred years.  They also sell modern looking pieces.  I can't say I'm really in to fashion or even shopping for clothing.  I don't do it very often.  Over the past 3 years (since having baby #5) I have made it my mini-mission to find myself a style that didn't look like I was trying to be a teenager again.  I wanted a style that was my own.
I'm in my mid-thirties and now I have six kids.  I don't want to look frumpy or outdated – but I also don't want to look out of place or oblivious.  I have found that the way we dress is a reflection on us – whether we want it to be or not.  I spent many years not caring what I looked like and just throwing on the closest pair of yoga pants.  I think even us stay at home moms can have a style and can treat ourselves every once and a while with some updated pieces to add to our wardrobe.  My lovely sister in fact sent me a gift card to this same shop for my birthday this year. I thought it would be fun to share with you what I purchased.   I took a long time deciding because there are so many great options on their website.  I started looking at dresses, which I loved, and really wanted to choose one.  However, I knew I needed two pieces to accommodate breastfeeding.  So I ended up choosing a blouse called "Expert in Your Zeal Top in Navy" and a skirt called the "Field Notable Skirt" from ModCloth to wear with my tall boots that I already had from last Fall.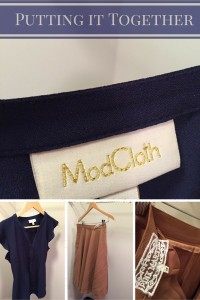 Shipping was free and it was super fast!  I loved how cutely it was packaged, too.  I'm usually a frugal shopper but I like to get one or two statement pieces from some nice shops.  To see more  Fall Trends from ModCloth click here.  This shop does not disappoint.    They even offer a $20 off coupon for new customers ($20 off $100 purchase) or Free Shipping!  Even if you aren't planning on buying you should check them out for fashion ideas – so many cute styles for Fall!
In the coming weeks, I'll be adding to my list of favorite shops and styles for moms!