I want to share with you my Nissan NV3500 Passenger Van review.
About a year ago, when I was newly pregnant with baby #6, we started looking for a new vehicle.  There is no way our family could fit into our mini-van which was only a 7 seater.  So, we began our search.  We started to look at 8 seater mini-vans and then SUVs but when we came across the Nissan NV Passenger Van, we fell in love. Not only have I been using it for taking the family abroad and on trips, but I've also been using it with shiply to earn some extra money on the side.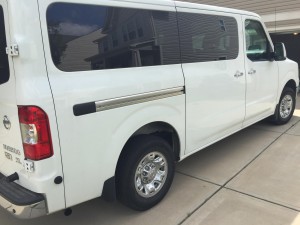 It is a 12 passenger van with 4 rows of seats.  Ours came with leather seats and a V8 Engine.  There are other options available, including a V6 engine.  We have been really very happy with this van.  The seats are removable and easy to take in and out.  There are many safety features including 8 standard airbags, latch, sonar and a rear-view camera.  Best of all, the kids are no longer squished into the back seat.  They are each able to sit in a full seat and they have room to stretch their legs.  There is no less fighting among them on long trips.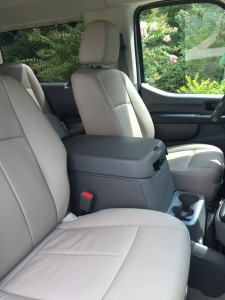 There is one large sliding door which we have loved.  I don't have to worry about kids running out from each side of the car or bumping into another vehicle when they open their door.  It slides smoothly and they each take turns getting in and out.  We actually have assigned them seats so that it makes for much less bickering and arguing over seat placement.
The trunk opens with two doors instead of one.  It is a nice trunk but we made ours a little larger by taking out two of the back seats during trips.
One of my favorite features is the electrical outlets this van includes.  We can actually plug in even more devices like our tablets to charge on long trips through these outlets.
Check out my video review below!